Whether you are a beginner or an experienced investor, you will want to find a stockbroker that offers low fees, a large number of stocks and ETFs, excellent customer service, easy-to-use mobile and web platforms. However, with such a huge offer, finding the most suitable broker can be an investment in itself.
We have compiled a list of European brokers, based on experience and years of research by other investors who have also tried them. We reached the 6 best brokers by comparing prices, products, ease of use, regulatory supervision, investor protection - and availability across Europe.
Nejlepší broker v ČR a v Evropě
Here is a list of the best stockbrokers in Europe based on several years of research:
Some online stockbrokers in Europe are best for beginners and have very low fees, while others are more suitable for experienced investors with a large portfolio. Whether you are interested in low fees, specific investment products, or you value security the most, you will find the right one for you in this list.
Best for beginners and free ETFs
Buy selected ETFs with zero commission. Winner of 86 international awards, with a base of more than 1 million investors.
Best overall and low fees
Trade across 135 markets with zero monthly fees, no hidden fees or secret spreads. Trusted and regulated since 1974.
Best for stocks with zero commission
Trade real shares with 0% commission. You risk your capital. Additional fees apply.

You might be interested in: Bitpanda Review - Trade cryptocurrencies, precious metals, stocks and ETFs on the largest European stock exchange
The best stockbrokers and ETF brokers in Europe - Quick comparison of brokers
| Broker | DEGIRO | Interactive Brokers | eToro | XTB | Firstrade | Bitpanda |
| --- | --- | --- | --- | --- | --- | --- |
| Order | 1st place | 2nd place | 3rd place | 4th place | 5. Place | 6. Place |
| Best for | Beginners and ETFs for free | Trust, low fees | Obch. with shares without commissions | Trading | Investor protection | Stocks and crypto |
| Monthly fee | €0 | €0 | $0 | €0 | €0 | €0 |
| Minimum deposit | €0 | €0 | Different | €0 | $0 | €25 |
| Inactivity fee | €0 | €0 | $10 after 12 months | € 10 after 12 months | $0 | €0 |
| Withdrawal fee | €0 | €0 | $5 | €0 | $0 | €0 |
Also read: Top 10 DEX - The best decentralized stock exchanges in 2022
How to choose a stockbroker
There is no one perfect stockbroker suitable for everyone, and sometimes you need more than just one.
Stock brokers often specialize in different areas or cater to different investment groups. You may find that some European brokers offer a wide range of products and a large number of available trading platforms, but they are also more expensive.
In contrast, discount brokers in Europe may have a smaller investment offer and only one platform, but they are also cheaper.
The key is to know what you need
The best stockbrokers in Europe generally offer the same fixed offer: individual stocks, exchange traded funds (ETFs), bonds, and instruments and derivatives such as options, futures and various leveraged products.
Beginners often choose to invest in a combination of stocks and ETFs. Manual stock selection can be beneficial if you want to better manage your portfolio or have information from the sector that will help you potentially beat the market.
However, ETFs like the S&P 500 tracker offer you access to many different companies, usually at minimal cost, and require few business decisions and time to manage. If you believe that gold or another commodity provides a safe haven during a financial storm, gold ETFs will provide you the opportunity to invest in a market and currency hedged product.
Fees and commissions
Explore the fees and commissions that brokers have for buying and selling your favorite investments. Cheap online brokers allow you to keep most of your profits to yourself without asking too high fees for currency conversion, withdrawing money, or adding hidden fees and surcharges to trades.
Easy to use
Whether you are a beginner or a more experienced investor, you will want a trading platform that is easy to use thanks to a user-friendly interface. The best brokers in Europe offer a web or mobile option to track your account, buy, sell and explore new markets and products.
Regulation
All Member States of the European Union have fully or partially adopted the same regulatory framework for investment services and activities, which is called MiFID II and MiFIR (basic package containing a directive (MiFID II) and a regulation (MiFIR).
An authorized broker will also be able to offer its financial services to residents of other Member States on the basis of an authorization granted in the country where it has an address.
For example, many brokers have chosen Cyprus as their European base because it has the lowest tax on cooperation, only 12.5%, and because the government has fully adopted MiFID.
In theory, all regulated brokers based in the EU are subject to essentially the same rules and supervision. In practice, this means that your security as an investor depends to a large extent on the capabilities and resources of the national tax office supervising the broker.
Authorities also enforce different rules, and there are differences in terms of money segregation and withdrawal times. In addition, strictly regulated brokers are not too big to fail, and strict regulatory supervision does not guarantee infinite financial solvency.
Reputation
Unfortunately, there are very few brokers who have a clear shield when it comes to public opinion or to whom no complaints have been made. In recent years, Trustpilot and other popular review sites have been overflowing with fake reviews and fake money back offers, making it very difficult to distinguish honest reviews from fake reviews. We suggest that you spend some time researching Reddit or similar forums that are more strictly moderated to learn about other investors' first-hand experiences.
5 simple investment strategies for beginners
Market time, not market timing: This investment strategy is based on the belief that good things happen over time, you just have to wait long enough. This is one of the most important strategies if you are trying to invest. It is not a good idea to invest in something and then try to time the market. This is not worth it because you will either lose money or get only a minimal return. The best thing you can do is make a purchase and then wait until the price goes up and sell.
Dollar-Cost Averaging (DCA): This is another investment strategy you've probably heard about. This strategy works by investing your money in smaller amounts over a longer period of time, rather than all at once. The idea behind this strategy is that if you invest too much money at once and then the market falls, you will lose all your money. Therefore, investing in smaller amounts will give you enough time to offset any losses before they are too large.
If the price drops: You won't be able to buy that much for one significant investment, so rather than make a big investment when the price suddenly falls, wait for the price to rise again, then buy more. This strategy can work best if you invest the same amount at regular intervals. So some people invest the same amount of money every month. If you do not have extra cash for your investment, then try to put a little money aside every week.
Diversification strategies: This is a practical and crucial investment strategy to keep in mind, as it will help you not to lose all your money if something unexpected happens. The diversification strategy tells us that we should not put all the eggs in one basket. We should try to divide our investments into more than just two groups. We may have money invested in the stock market, but we should also invest a little bit in something else that is not so volatile.
Investing in ETFs rather than individual stocks is a great way to diversify your investment because ETFs can offer you more return on investment. The risk is also lower because ETFs consist of several stocks, and you can divide your money into different sectors. However, if you want to make the most of this option, you will need to conduct your own research.
Detailed comparison of brokers - The best stockbrokers in Europe
1. DEGIRO: Best overall and best for beginners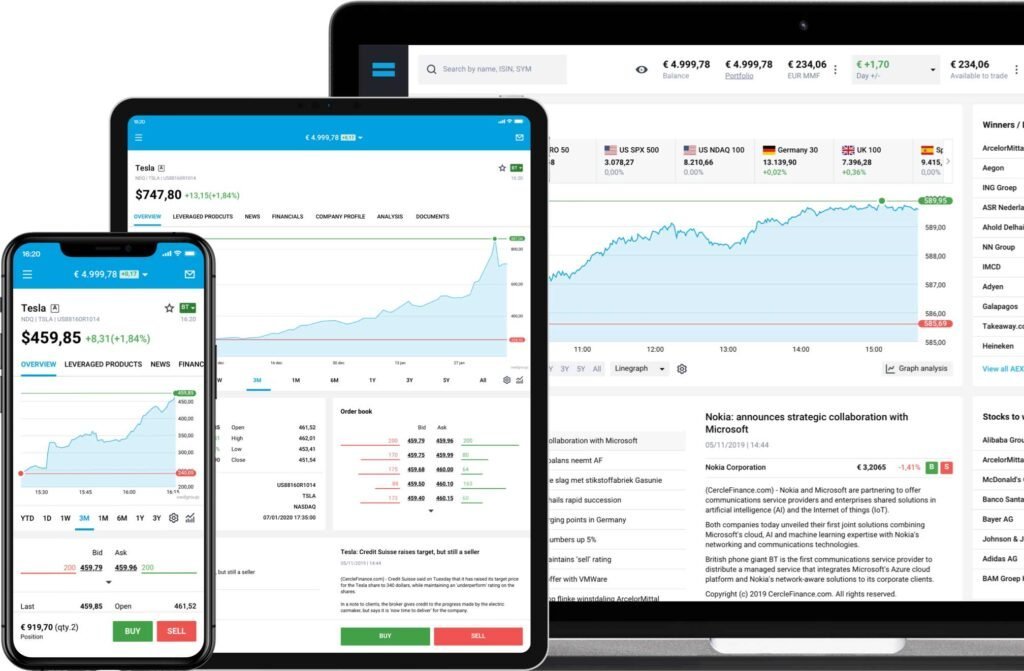 DEGIRO - #1 The best broker in the Czech Republic and Europe
With more than 1,000,000 investors in Europe and 86 international awards, including the Financial Times's "Best Rated Overall Investment Platform" award, DEGIRO based in Amsterdam at the top of this ranking, as one of the best stockbrokers in Europe.
Benefits
Ultra-low business fees and zero to low non-business fees
US stocks without commission
Monthly ETF trades with zero commission
Access to thousands of stocks across 50 markets and 30 exchange offices
Friendly web platform suitable for those who are just starting to invest
BaFin controller
Things to keep in mind
Limited geographical availability
Lack of support for debit / credit cards and e-money services
The fee schedule is confusing
Notice: Investing in this exchange carries the risk of financial losses.
In terms of fees, it is no surprise that DEGIRO is so popular with European investors as it offers ultra-low trading fees, zero non-trading fees and monthly commission-free ETFs.
DEGIRO is owned by Flatex Bank, a large German bank, and is regulated by the German financial sector regulator BaFin. He is also registered with the Financial Conduct Authority (FCA) in the United Kingdom. In addition, clients are protected under the EU Investor Compensation Schemes Directive, and assets are held by a separate administrator, separate from the broker's assets.
DEGIRO main function
| | |
| --- | --- |
| Fees | Low |
| Products | Stocks, ETFs, bonds, options, crypto trackers |
| Supported countries | See list at website |
| Regulation | BaFin (Germany) |
| Minimum deposit | 0 |
| Inactivity fee | No |
| Time to open an account | 48 hours |
| Basic currencies | CHF, CZK, DKK, EUR, GBP, HUF, NOK, PLN, SEK |
Fees
DEGIRO was one of the first discount brokers in Europe. They are 100% online and have managed to keep costs to a minimum, which is why their fees are one of the lowest on the market. Here is a picture of the updated prices on DEGIRO for a "Basic Account," starting on 20-12-2021 (for current fees up to 20-12-2021, visit the DEGIRO website). Please note that charges may vary depending on the country you live in.
Non-business and account fees: DEGIRO is very competitive when it comes to withdrawal fees, deposits, etc. In many cases, it does not charge any fees at all. DEGIRO has no fees for withdrawal, deposit, safekeeping or inactivity. It also does not require any minimum deposit or fees for opening, closing or managing an account; however, there is an exchange fee if the deposit or withdrawal is made in a currency other than the base currency of the account.
ETF without commission: DEGIRO is known for its ETF offer without commission. Each month, clients can buy or sell a number of favorite ETFs without commission, regardless of the size of the order. See list of ETFs offered and conditions here.
Shares and ETFs: Trading in international ETFs, other than those without a commission, is usually associated with a fee of around € 2. US stocks are tradable without commission for most users; International stock trading fees vary depending on the stock exchange and your location, but usually start at around € 3.90 on European stock exchanges. Certain nationalities may trade stocks and ETFs at an exchange office in their home country for a zero commission. In addition, there is a fixed "handling" fee of EUR 0.50 per trade, except for trades executed through Tradegate; other fees may apply.
Currency conversion: Transfers will be charged for trades in instruments denominated in currencies other than your base currency. Currency exchange via "Auto FX trader" will cost you 0.25% spread of the amount transferred; hand-traded currencies are subject to a fee of EUR 10 + 0.25%.
Why DEGIRO
Investors looking for a versatile, easy-to-use and low-cost broker will find DEGIRO as an excellent solution. Notable disadvantages include slow customer support and a lack of in-depth learning resources for beginners, but overall DEGIRO offers a great package for everyday investors, including first-class regulatory licenses, a user-friendly trading platform, extremely low fees, and ETF trading without commission. This robust combination makes DEGIRO a winner for investors who want to buy and hold.
2. Interactive Brokers: Most Trusted
Interactive Brokers - #2 The best broker in Europe
European investors looking for a highly trusted broker who has stood the test of time will find Interactive Brokers as the best solution. Interactive Brokers Founded in 1978, it is one of the largest online stockbrokers in the world, with regulatory licenses in 11 first-level jurisdictions, an excellent $ 9 billion capital position, the best security history, and the lowest possible trading fees across all major asset classes.
Interactive Brokers offers lowest commission and the largest list of stocks, ETFs, bonds, funds, options, futures, forex pairs, metals and cryptocurrencies at 140 international exchange offices in more than 33 countries, all available from a single investor account. European users can fully enjoy this experience, thanks to the presence of Interactive Brokers on the European continent and several other supported countries.
Benefits
Ultra-low business fees across all asset classes
Highly trusted with more than 40 years of history
The largest number of stocks, options, futures, forex, bonds and funds
Great for active trading
The cheapest margins
It supports more currencies than any other competition
Regulated by 11 tax authorities
Things to keep in mind
IB trading platforms are feature-rich, but can be too complicated for beginners
Little support for beginners
Interactive Brokers main features
| | |
| --- | --- |
| Fees | Low |
| Products | Stocks, ETFs, FOREX, bonds, funds, options, futures, commodities, cryptocurrencies, robo-trading |
| Supported countries | Most of Europe |
| Regulation | SEC, FINRA, NYSE (USA); FCA (UK), CSSF (LUX), CBI (IE), MNB (HU) |
| Minimum deposit | 0 |
| Inactivity fee | No |
| Time to open an account | 72 hours |
| Basic currencies | 22, including EUR, GBP, USD |
Fees
Interactive Brokers offers some of the lowest business fees and commissions available on the market (see examples below). The broker works with two pricing models for international clients: fixed and tiered prices. For both price structures, there is a zero monthly fee for inactivity or safekeeping, and no minimum on the account. Unfortunately, Interactive Brokers does not offer its 'Lite' account without commission to customers in Europe.
Fixed price plan: Interactive brokers have a simple pricing plan for occasional investors. When buying Euro-denominated ETFs or shares on the European stock exchange, you will pay approximately 0.10% commission on the value of the trade, with a minimum amount of EUR 4 and a maximum amount of EUR 29. This plan includes all commissions, currency exchange fees, and regulatory fees, which greatly facilitates orientation in the fees.
Tiered pricing plan: Interactive Brokers also offers a tiered pricing plan with declining commissions for larger volumes. This plan requires more costing, but will generally be cheaper when making larger orders. You only pay around 0.05% from the value of the trade for products in Euros, with a minimum amount of 1.25 EUR and a maximum amount of 29 EUR. In addition, you will pay a settlement fee of 0.1 EUR, plus currency exchange fees
Why Interactive Brokers
As a stockbroker for European retail investors, Interactive Brokers appeals with its large product selection, lowest prices, long history, and high level of trust. Interactive Brokers used to be a great choice especially for large portfolios, due to the inactivity fee for account management. However, in July 2021 the broker abolished this fee along with any minimum for the account. This combination of low trading commissions and zero account maintenance fee makes IB quite an ideal brokerage firm for both larger and smaller investors.
In recent years, Interactive Brokers has been trying to attract even the most experienced customers with the beginner-friendly Client Portal trading platform, which is available in several different languages. We can only hope that in the coming years it will also enable trading for zero commission for Europeans as well. Overall, Interactive Brokers have a time-tested, robust investment offering that will satisfy most investors.
3. eToro: Best for stocks with zero commission
eToro - #3 The best stockbroker in Europe
Please note: This content is not intended for US users.
eToro has become one of the most popular online stock brokers in Europe, with more than 12 million users worldwide. And it's not surprising at all. The platform is reliable, user-friendly, and supports trading with a variety of assets, including trading in real shares without commission.
Benefits
Zero stock trading fees for residents of certain countries
Great for social and copy trading
User-friendly web and mobile platform
Regulated by many tax authorities around the world
Things to keep in mind
The combination of leveraged CFDs and real stocks can be confusing for beginners
Works exclusively with USD
$ 5 pickup fee
The eToro mobile and web platforms provide access to more than 2,500 tools. In addition to equities and ETFs, investors also have access to an impressive number of cryptocurrencies, including Bitcoin and Ether, but also to commodities, foreign currencies and indices that are tradable at a low price. Another unique key tool of the eToro platform is the ability to conduct social trading and automatically copy the strategies of the most successful traders.
CFDs are a complex tool with a high risk of rapid loss of money due to leverage. 68% accounts of retail investors lose money when trading CFDs with this provider. You should consider whether you really understand how CFDs work and whether you can afford to take such a high risk of losing money.
eToro is regulated by several top financial authorities around the world, including the UK Financial Conduct Authority (FCA License No. FRN 583263), the Cyprus Stock Exchange Commission (CySEC License No. 109/10), as well as the Australian Securities and Exchange Commission .
We would like to warn the people of the United Kingdom that cryptocurrency trading is not available for them on eToro due to FCA restrictions. Cryptocurrency trade is also unavailable to residents of France (including the French territories), the Netherlands and Russia.
eToro main features
| | |
| --- | --- |
| Fees | Low |
| Products | Stocks, ETFs, cryptocurrencies, commodities, indices, CFDs |
| Supported countries | Visit eToro for the most up-to-date list of supported jurisdictions |
| Regulation | CySEC (Cyprus), FCA (UK), ASIC (Australia) |
| Minimum deposit | $200 - 1,000 |
| Inactivity fee | Yes, after 1 year |
| Time to open an account | 48 hours |
| Basic currencies | USD |
Fees
eToro has shares without commission for EU and UK clients, which means that there is no brokerage fee for buying and selling. You will own the underlying asset to a greater extent in your name, not a derivative that is important from the point of view of protection. There are also no management fees, ticket fees, or a fee for 'rolling over' positions without leverage. Please note, however, that additional charges may apply.
Zero commissions: eToro has a solid selection of popular real stocks that can be traded at no extra brokerage fee if you do not use leverage. It includes popular stocks like Amazon, Boeing, and Tesla. There is no limit to the number of shares you can buy, which makes the platform great for investors to buy and hold.
Leverage trading fees: Traders looking for excitement have access to a wide selection of leveraged CFD products at competitive spreads (the difference between the price of demand and supply). These include 94 crypto pairs, 13 indexes, 19 commodities and metals, and 47 traditional forex pairs that can be used with leverage for short and long positions.
Additional fees: eToro has no currency exchange connection fees, deposit fees or stamp duty fees. After 12 months, there is a $ 10 inactivity fee, but simply log in to your account and the timer resets. There is a 0.5% currency conversion fee to USD, and a withdrawal fee of USD 5.
Why eToro
eToro has come a long way since its launch in 2006 and attracts almost 20 million website visits each month. The platform is fully regulated across Europe, with financial supervision from the Financial Conduct Authority (FCA), the UK watchdog, and the Cyprus Securities and Exchange Commission (CySEC). Most importantly, European clients are protected by EU or UK investor compensation schemes and will own the underlying asset at the time of purchase.
By joining the growing trend of free stock trading, eToro offers a great package for investors with fundamental needs, as well as for those who are more interested in speculative trading. Thanks to their beginner-friendly trading platforms and simple pricing structures, investors can easily buy and sell over 1,500 shares and 150 ETFs without having to worry too much about fees or complexity.
Risk warning
eToro is a multi-asset platform that offers equity and crypto asset investing as well as CFD trading.
It is important to realize that CFDs are complex tools and carry a high risk of losing money quickly due to the use of leverage. 68% accounts of retail investors lose money when trading CFDs with this provider. You should consider whether you understand how CFDs work and whether you can afford to take such a high risk of losing your investment.
Past performance is not an indication of future results. The business history presented here covers less than 5 full years and may not be a sufficient basis for investment decisions.
Copy trading is a portfolio management service provided by eToro (Europe) Ltd., which is authorized and regulated by the Cyprus Securities and Exchange Commission.
Investing in crypto assets is not regulated in some EU countries and the United Kingdom. No customer protection. Your capital is at risk.
eToro USA LLC does not offer CFDs or make any representations or assumes any responsibility for the accuracy or completeness of the content of this publication, which was prepared by our partner using publicly available information about eToro that is not specific to entities.
Your capital is at risk. Additional fees apply. For more information, visit  etoro.com/trading/fees.
You might be interested in: eToro Review - More Than Just a Broker (2022)
4. XTB: The best broker with multiple assets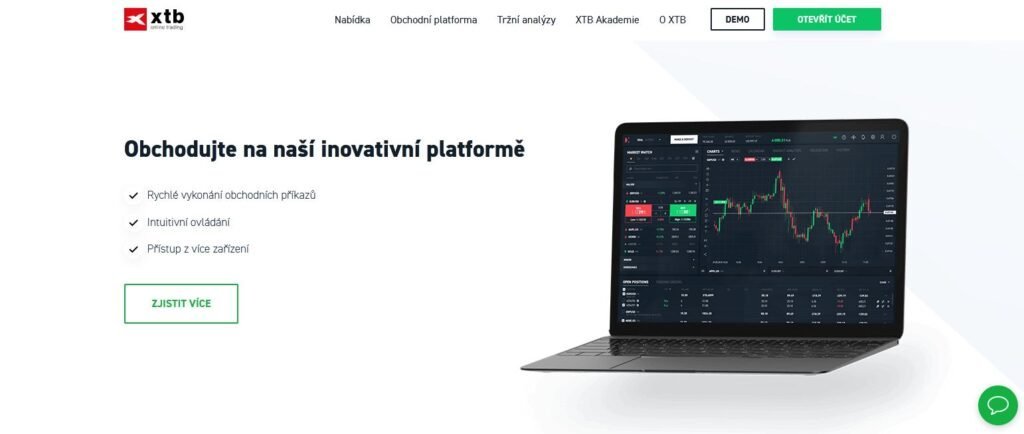 XTB - #4 The best broker in the Czech Republic and Europe
XTB started in 2002 as a derivative and forex broker, but has now expanded its offering to real stocks and ETFs in several European countries, including: the Czech Republic, Germany, Portugal, Poland, France, Spain and Slovakia, and others should future to follow. If you live in one of these jurisdictions, you can invest in XTB without commission in more than 2,500 real shares and 200 ETFs across 16 exchange offices worldwide.
Benefits
Zero commissions for shares and ETFs for residents of certain countries
The best overall business mobile application
The best educational resources for self-education
Regulated by many tax authorities and publicly traded on stock markets
Things to keep in mind
Real shares are only available in certain jurisdictions
The combination of CFDs and real assets can be confusing for beginners
This offering includes top companies such as Tesla, Apple, and Amazon, as well as the most popular ETFs from iShares / BlackRock, Amundi, and Lyxor. By purchasing securities, you acquire shares in the company and share in the results in the form of potential dividends.
We do not support Contracts for Differences ('CFDs'), but we are required to provide the following statement: 73% retail accounts lose money when trading CFDs with this provider.
XTB is making great strides in the rapidly changing online brokerage scene in Europe and provides access to a wide range of markets, not just stocks. Offers stock CFDs, cryptocurrencies, forex, indices, metals and commodities. In addition to trading in real shares, investors can also trade in synthetic shares. This new derivative initially behaves like real shares and reflects the value of the shares, but instead of a security, it is the underlying CFD instrument without leverage. Investors will also receive a dividend for synthetic shares.
What you should know
For who is it: Investors in shares from eligible countries who wish to conduct occasional trading.
Marketable assets: Real stocks and ETFs in selected countries; synthetic stocks, forex CFDs, currencies, cryptocurrencies (not available in the UK).
Fees: XTB advertises zero commissions for shares; 0.08% per lot for shares and ETF CFDs with min. 8 EUR per trade, and min. spread 0.5; zero commissions for cryptocurrency trading, but different spreads apply; no minimum deposit; no deposit fee; no withdrawal fee for withdrawals over $ 100; a fee of EUR 10 for inactivity after 12 months; additional fees may apply
Trading platform: XTB's proprietary xStation and xStation Mobile platforms have a modern look and feel with one-click trading, a news feed, and offer quick access to market, limit and stop order settings.
Regulation: XTB is a publicly traded company regulated by the United Kingdom and registered with the Financial Conduct Authority (License number FRN 522157), as well as with the Polish Financial Supervisory Authority (KNF), and the Cyprus Securities and Exchange Commission (License number 169/12).
Creating an account with XTB is free and in addition to the fee of 10 EUR, if the user does not "open or close positions" in his account within the last 365 days and does not make any cash deposit within the last 90 days, the platform has no monthly / annual activity fees. Fees for trading real shares and ETFs on XTB may vary and include a fee for connecting to an exchange office. However, there are no minimum deposit requirements, no bank or debit card deposit costs, no withdrawal fees for amounts in excess of $ 100, and no account closing fees.
5. Firstrade: The best investor protection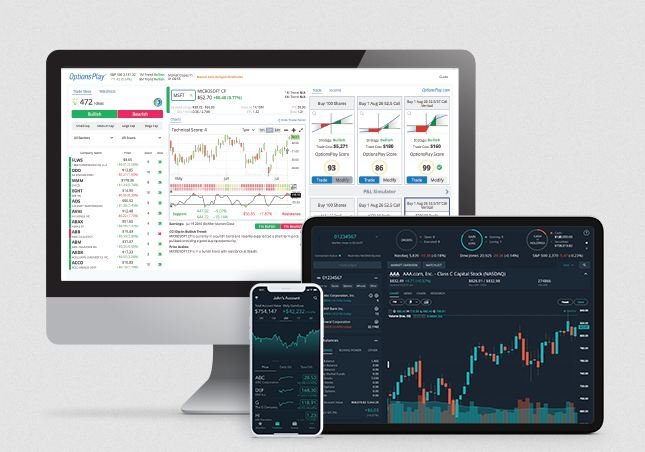 Firstrade - #5 The best broker in the Czech Republic and Europe
Firstrade is a well-known, low-cost American online brokerage company with extensive investment opportunities for both beginners and experienced investors. Founded in 1985, the company excels through its long-standing offering of commission-free trading in stocks, options and ETFs for investors around the world. Authorized European nationalities can trade on Firstrade  with zero commission per trade, and without a minimum deposit or account management fees.
Benefits
Zero commissions for shares, ETFs, options and funds
Investor protection up to $ 500,000
Securities lending program to obtain additional income
Highly intuitive mobile application
Advanced mapping features
Things to keep in mind
It only supports USD
It does not support low cost online money transfer services
Slow customer support
For international accounts, Firstrade offers high account protection of up to $ 500,000 through the Securities Investor Protection Association (SIPC), of which up to $ 250,000 can be cash. In addition to the standard compensation scheme, Firstrade also provides additional insurance up to a total of $ 150 million through a clearing house, Apex Clearing Corporation.
The Firstrade web platform is simple in design but highly functional, while the Firstrade mobile application will provide a very intuitive experience where you can do virtually everything you need in an investment account. The firm is particularly interesting in terms of combining ordinary investment and options trading and has an extensive library of teaching material on the subject.
In addition to trading free of charge, Firstrade offers investors the opportunity to generate additional income and improve returns by lending their securities to short sale financial institutions. Interest is accrued daily and paid to you once a month. There are no restrictions on the shares that are lent and that the account holder can sell at any time. This unique feature can potentially dramatically improve returns for large stakeholder investors.
Firstrade is currently available in the following European countries: Belgium, Czech Republic, Denmark, Finland, France, Ireland, Italy, Germany, Norway, Poland, Portugal, Austria, Spain, Sweden, United Kingdom.
Summary
Now you know the most important aspects to look out for when choosing a stockbroker in Europe. In the end, the most important thing is that the broker is reliable and that you are satisfied with the level of fees you pay and the choice of available products. Sometimes it really pays to pay a little more for the feeling that your money is safe and that you can rely on a broker for the next few decades.
FAQ - Frequently Asked Questions
What are stocks?
A stock is an investment that represents partial ownership of a corporation. Shareholders are entitled to a share of the corporation's profits. Strictly speaking, "shares" are units of shares. But in everyday financial language, "stocks," shares, "and" equity "are used interchangeably.
What is a stockbroker?
A stockbroker or broker is a firm that provides investors with access to a stock exchange in exchange for a commission. Modern brokers facilitate the connection between investors and stock exchanges through feature-rich online software called a trading platform.
What are ETFs?
An exchange traded fund or ETF is an investment that usually tracks a major index such as the Dow Jones or S&P 500, but can also track a specific industry sector, such as information technology, or it can be a collection of securities from emerging markets. While ETF owners do not own any underlying assets, ETFs are popular because they offer low cost ratios and reduce exposure to individual securities through diversification.
How do I choose an online broker?
Choosing the right online broker is the biggest obstacle for many new investors. When it comes to choosing a broker, there is no one-size-fits-all option. Depending on your experience and specific needs, you may need accounts with several different independent brokerage firms at once. Brokers usually specialize in different areas and those who do not are usually too expensive for beginners.
Which is the best broker in Europe for beginners?
For new investors, choosing the right broker means much more than just accessing thousands of products. The best stockbrokers for beginners offer simple pricing structures, fast online support and great tutorials. A simple trading platform is key to get started.
Which European stockbroker offers the lowest fees?
For private investors with small and medium portfolios, the cheapest brokers in Europe are DEGIRO, eToro and Revolut platforms. All three are popular discount brokers with very low fees.
For regular stock trading, DEGIRO and eToro offer the most competitive prices. While DEGIRO has the advantage of cheap currency transfers and no inactivity fees, eToro offers the most competitive full price plan for trading stocks with zero commission. Both platforms are great for cost savings.
What are the largest brokerage firms in Europe?
Many of the largest brokerage firms in Europe do not disclose their financial results, making them difficult to compare in terms of size. However, in terms of sales and number of users, the largest European brokers include Saxo Bank, IG, DEGIRO, and Comdirect.
Can I invest in US stocks from Europe?
In short, yes. The most respected European brokers will allow you to invest in US stocks and give you access to US stock exchanges. However, you cannot buy US-based stocks in euros, which means you have to reckon with exchange rate risk.
What are the best stock alternatives?
There are many alternatives to stocks that can help you build a more diverse portfolio. The best alternatives to stocks include crowdfunding of real estate and commodities such as gold and silver. If you are willing to take a higher risk to increase your potential return, it may be worth exploring cryptocurrencies.
Metodologie: Jak byli vybraní nejlepší broker v ČR a nejlepší burzovní makléři v Evropě
Our goal is to provide readers with honest, in-depth reviews and ratings of online investment and trading platforms. Our assessment is based on several months of testing all aspects of the platform, focusing on available products and markets, overall platform experience, fees, account opening process, security, account security, and customer support experience.
Also read: Nejlepší Bitcoin burzy a směnárny kryptoměn – přehled, návody a tipy(2023)
Interesting events for our readers