Binance Yippee leading cryptocurrency exchange for cryptocurrency traders and enthusiastswho want to buy and sell a wide range of cryptocurrencies at low fees. Under the leadership of his charismatic leader Changpeng Zhao are its defining features of innovation and new features, proactive community, opportunity to Buy Bitcoin and Altcoins with Over 40 Fiat Currencies |, own Binance Smart Chain and Binance coin (BNB), Binance Futures and trading margins with up to 125x leverage and a vision to transform in the coming future into Decentralized Autonomous Organization (DAO). Although the platform is able to process large volumes of trades without suffering a significant slowdown in transaction times, from time to time it faces a significant number of problems, including unexpected maintenance and security vulnerabilities. Nevertheless, it remains one of the most important exchanges in the cryptocurrency sector.
Basic information
✅

Page type
cryptocurrency exchange and exchange office

✅

Easy for beginners
Yes

✅

Mobile application
Yes
🌍Company headquarters
Malta
🌍Establishment of a company
2017
💰Deposit method
cryptocurrencies, fiat (can be via credit card)
💰Selection method
Cryptocurrencies, fiat
📉Number of pairs available
563
📉Cryptomens on the stock exchange
BTC, ETH, XRP, USDT, TRON, ADA + 175 more

✅

Suitable for beginners
Yes
👮‍♂️Trust in society
high: Despite its security, the Exchange enjoys almost the highest trust of its users of all crypto exchanges

✅

Trading fees
0.1 % from each store (less can be - VIP Trading Levels)
☎Customer support
active

✅

Own cryptocurrency
Yes, Binance Coin (BNB running on Binance Chain, more here)

✅

Own wallet
No

✅

Page
Page: https://www.binance.com/
Binance reviews
Binance is one of the star exchanges in the cryptocurrency trading sector. Under Changpeng Zhao's leadership, he has been operating for just over four and a half years. Nevertheless, it managed to establish itself as one of the most innovative and open centers of crypto-innovation.
The basic functions of Binance include:
Trading with more than 180 cryptocurrencies. It is one of the main altcoin exchanges with one of the best selections of tradable assets.
Binance Fiat gate. The exchange allows you to instantly buy Bitcoin and other cryptocurrencies with 40 popular fiat currencies using bank cards, bank transfer and other payment methods. In addition, you can sell them for some of the supported fiat currencies.
Low trading fees. Stock trading brings some of the lowest in the industry.
Cross-platform support. The Exchange is accessible through its web platform, mobile applications for Android (including Android APK) and iOS and desktop clients for macOS and Windows. In addition, you can use the Binance API.
Binance Futures with up to 125 times leverage and margin trading with up to 10 times leverage. Trade cryptocurrency contracts and assets using leveraged positions for maximum returns.
24/7 customer support. Binance has a dedicated help center where you can contact the support team or real beginners' guides and explanations of all kinds of stock market features.
Binance Launchpad. All customers can participate in its initial exchange offers (IEO). IEO companies are among the most profitable in the industry.
Binance earn. The exchange also supports staking, cryptocurrency lending and other ways to earn passive income from your cryptoactive assets.
In short, Binance is one of the most innovative cryptocurrency exchanges on the market. Developers and members of the global community are constantly working to improve the ecosystem and popularize the use of cryptocurrencies worldwide. The stock exchange is a great trading opportunity for beginners and experienced traders.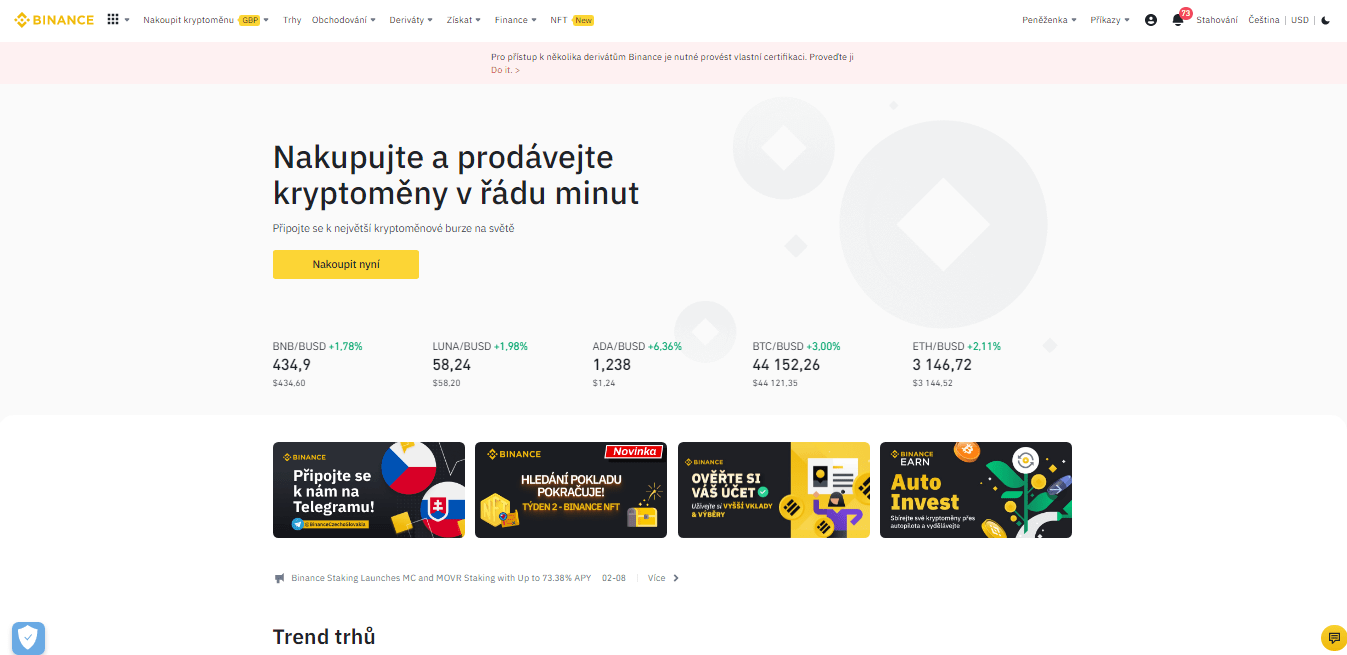 History
Binance is one of the newest but best known large crypto exchanges. It started with a simple idea - to provide a simple, intuitive, fast and robust interface for trading cryptocurrencies. Launched in China in July 2017, founders Changpeng Zhao and Yi He previously worked on OKCoin, and Changpeng has also been a member of the Blockchain.com team since 2013.
The stock exchange proved to be one of the most successful ICO (initial coin offer) projects. Between July 1 and 20, 2017, the stock exchange received the equivalent of $ 15,000,000 from eager investors. In return, investors received 100,000,000 Binance Coin (BNB) tokens issued on the Ethereum blockchain (now migrated to the native Binance Smart Chain blockchain). The initial ICO price for one BNB was $ 0.115 per coin.
Since its launch, the platform has become the largest stock exchange in terms of trading volume. Even more surprising is that she achieved this in just six months. Today, it still remains at the top, which can be attributed to its ease of use, ability to respond to a large number of transactions, global approach and availability of the platform in many languages, including Czech.
Although the company was founded in China, it moved its headquarters to Japan before the Chinese government's ban on cryptocurrency trading in 2017. In 2018, the Company established offices in Taiwan and announced its move to Malta. However, in 2020, the Malta Financial Services Authority (MFSA) stated that the stock exchange was not officially registered or regulated in the country.
While Malta remains the de facto headquarters, the company is listed in the Cayman Islands and the Seychelles. In addition, the company has teams in California (United States), London (UK), Paris (France), Berlin (Germany), Moscow (Russia), Istanbul (Turkey), Singapore, New Delhi (India), Kampala (Uganda). ), Manila (Philippines), Ho Chi Minh City (Vietnam) and elsewhere in Asia. In total, her team operates in more than 40 countries.
Aktuálně
Today, the stock market has over 15 million users and settles more than $ 2 billion in an average trading day. In addition, it has developed a set of related products:
US a další lokalizované verze burzy. Regulated versions of the exchange dedicated to certain markets with different regulatory climates.
Binance DEX. Decentralized stock exchange built on the Binance smart chain.
Binance Futures. A crypto-derivative platform that allows you to trade futures with up to 20 times the leverage.
P2P trading. A peer-to-peer cryptocurrency trading platform such as LocalBitcoins or LocalCryptos that supports payments via WeChat, AliPay, bank transfers and QIWI.
Crypto Loans Binance. A feature that allows you to take out cryptocredit secured by your cryptocurrency assets.
Binance OTC. Over-the-counter trading desk for whales and other high-volume traders.
Binance savings. The ability to leverage your crypto assets to earn interest. You can withdraw your funds at any time.
Binance Staking. This feature allows you to stack certain cryptocurrencies and get up to 16% annual yield. Supported cryptocurrencies include Ark, EOS, ARPA, TROY, Lisk, LOOM, Tezos, KAVA, THETA and others.
Binance Smart Chain and Binance Coin (BNB). An ecosystem managed by a community with its own native token (BNB) and decentralized exchange (DEX).
Binance USD (BUSD). Regulated stablecoin, issued in cooperation with Paxos Trust Company.
Binance Academy. An open access learning center for blockchain and crypto learning resources.
Binance Charity. Non-profit foundation dedicated to the development of blockchain philanthropy and sustainable global development.
Binance Labs. An initiative to support blockchain projects.
Binance Research. Institutional research platform conducting analysis for investors.
Trust wallet. Official, secure and decentralized Binance wallet.
Binance map. A crypto payment card that can be used as a payment option for everyday purchases just like a regular bank card.
Between 2019 and 2020, the company purchased India's largest cryptocurrency exchange, WazirX, China's dapp analysis platform, DappReview, and the most popular cryptocurrency market aggregator, CoinMarketCap.
In the future, Binance has ambitious goals to transform into a decentralized autonomous organization (DAO) that will enable fiat-to-crypto trading for more than 180 fiat currencies.
Binance fees
Vklad prostředků je zcela zdarma. However, the story is a bit different with shops and selections, although they remain one of the cheapest in this segment.
The platform charges 0.1 % from each trade that takes place on its trading platform, making it one of the cheaper crypto exchanges on the web. As such, 0.1% trading fees apply to both spot trading and margin trading. For example, Coinbase Pro charges 0.5% per trade and Bittrex charges 0.2% per trade. Other popular altcoin exchanges like KuCoin and HitBTC charge similar rates.
Fees vary depending on the level of the customer you are at (VIP 0 and above).
You can also get significant discounts on trading fees when using Binance Coin (up to 25 %) and another discount when using our link, this makes Binance one of the cheapest exchanges in the industry.
Low trading fees also apply to Binance Futures. At the most basic level (VIP 0) you pay a 0.02% creator fee and a 0.04% recipient fee.
Another key factor to consider when evaluating Binance fees is the rate of futures financing and the daily interest rate on the margin position. These usually change based on market conditions and there are no fixed rates, so check them regularly on the website here and here.
Přehled poplatků za převod a výběr
Last but not least, these are deposit and withdrawal fees. Cryptocurrency deposits are free for all 180+ coins supported by the exchange Withdrawal fees vary by cryptocurrency. Fees for some of the most popular coins:
| Coin | Minimum amount | Transfer fee |
| --- | --- | --- |
| Bitcoin (BTC) | 0.001 BTC | 0.0004 BTC |
| Bitcoin (BTC) - BEP2 | 0.0000044 BTC | 0.0000022 BTC |
| Ethereum (ETH) | 0.02 ETH | 0.003 ETH |
| Ethereum (ETH) - BEP2 | 0.00018 ETH | 0.000092 ETH |
| Litecoin (LTC) | 0.002 LTC | 0.001 LTC |
| Litecoin (LTC) - BEP2 | 0.00074 LTC | 0.00037 LTC |
| Monero (XMR) | 0.0002 XMR | 0.0001 XMR |
| Ripple (XRP) | 0.5 XRP | 0.25 XRP |
| Ripple (XRP) - BEP2 | 0.17 XRP | 0.083 XRP |
As you can see, the exchange allows its users to download either the regular version or the BEP2 version. BEP2 are based on the Binance Smart Chain and do not use the real crypto asset, but its fixed version of BEP2.
To put these fees in perspective, Kraken and Bittrex charge a collection fee of 0.0005 BTC, while Bitfinex and HitBTC charge 0.0004 BTC and 0.001 BTC.
Binance also facilitates purchases through service providers and third-party integrations. With Binance Fiat Gateway you can buy and sell cryptocurrencies with more than 40 fiat currencies. Fees vary depending on the payment method and floating exchange rates specified by Simplex, Koinal, TrustToken, BANXA, iDEAL, SEPA, Paxos and other payment processors.
Overview of other stock exchanges and exchange offices you will find here
Fiat gateway fees usually vary from 1 % to 7 % depending on the payment method and processor chosen. Bank card transactions tend to be more expensive compared to other payment options.
Binance tutorial
Usability is one of the key strengths of the platform. Its website and business pages were redesigned in 2019 and are now easy to understand for both beginners and advanced users.

Registration
Start by signing in or by creating an account. Basic information such as an active email address and a strong password is required. First customers must pass a one-time Know-Your-Customer (KYC) verification. It requires you to submit the following documents:
Government ID (passport, ID card or driver's license)
Proof of residence (energy bill)
Verification is also relatively simple and fast, with the exchange responding quickly to sending verification documents.
Design
The exchange provides the ability to switch between basic, classic and advanced trading screens, so more experienced traders can benefit from having more information on a single page. In contrast, less experienced traders can perform token swaps without a staggering array of windows and charts.
Basic interface is the easiest way to trade and consists of simple options to select two cryptocurrencies and perform a conversion.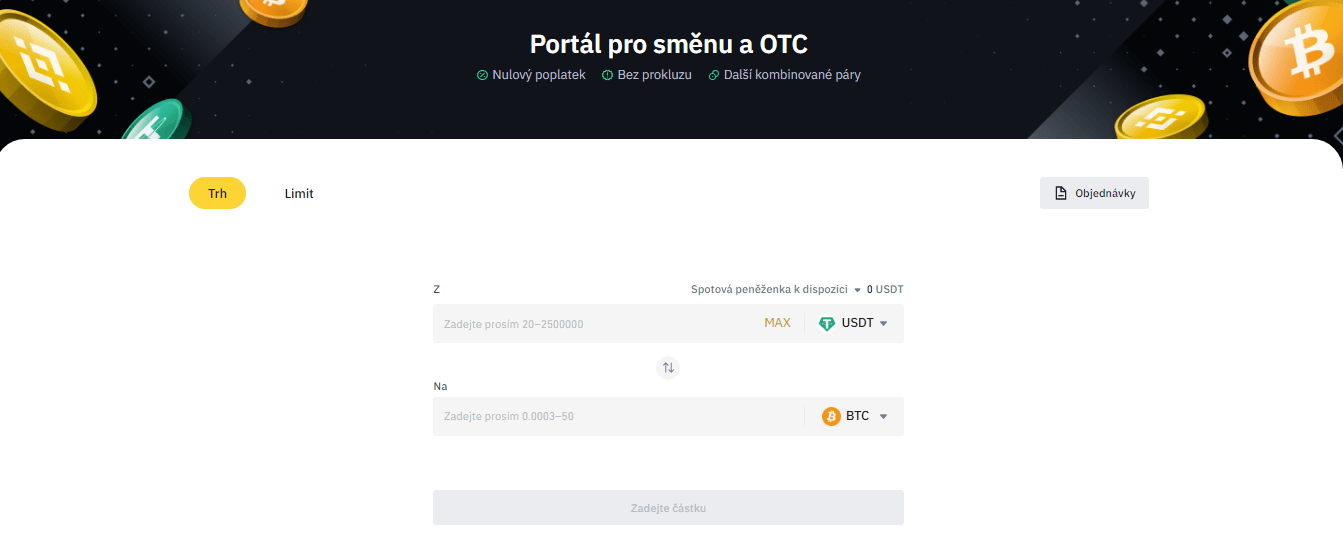 Classic mode is more advanced and returns the "classic" look and feel of the stock market. Includes advanced order types, price and market depth charts, a book of supply and demand orders, as well as a store history and an open order overview window. In addition, it allows you to trade margins and options, making it suitable for more advanced retail investors.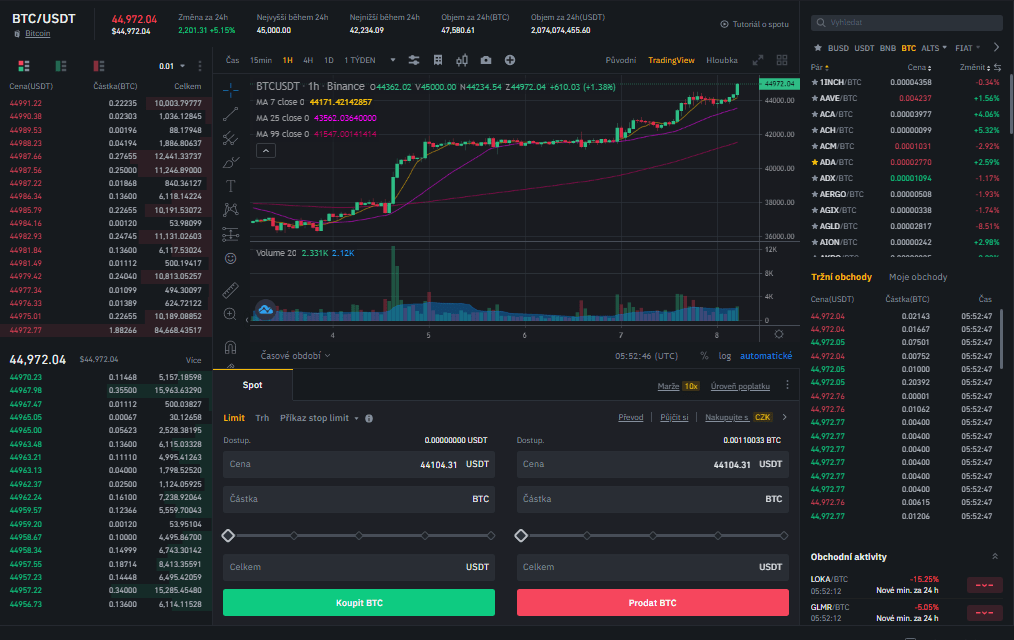 Last but not least, it is here advanced interface. It shows all the same options as the classic view, but all windows are built in a somewhat cleaner and clearer way. It was the latest addition to the Binance interface and has a modern look.
Users can conduct fiat-to-crypto trades through P2P marketplaces. Here, traders from all over the world can apply and sell or buy Tether (USDT), Bitcoin (BTC), Binance USD (BUSD), Ethereum (ETH) and EOS using fiat currencies.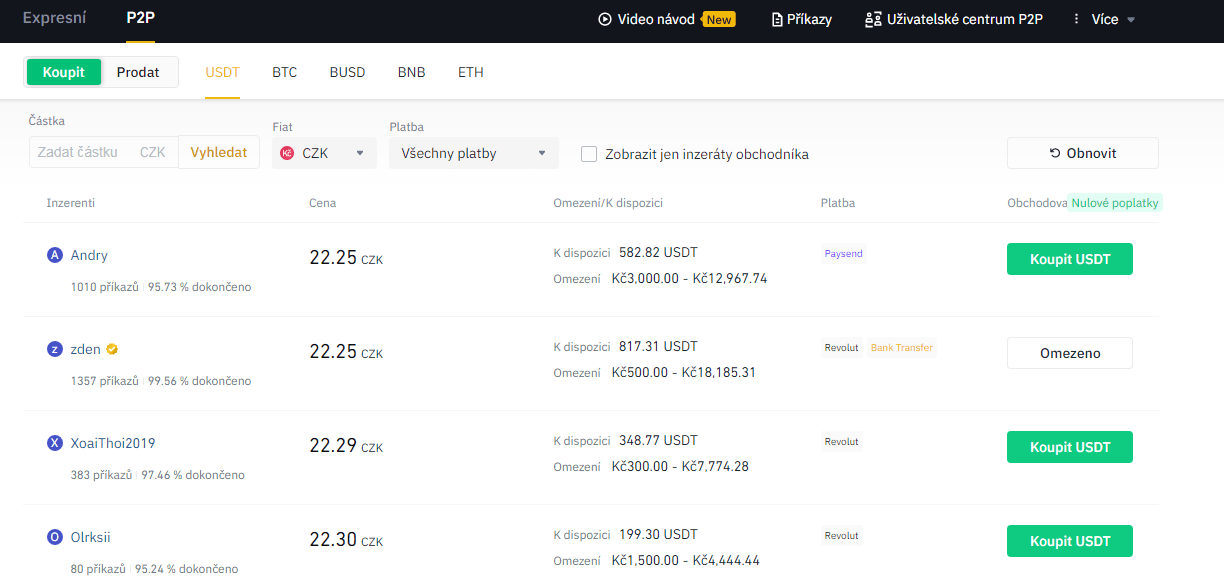 Spot trading
At the top of the Binance home page, click Trade and choose Classic or Advanced Interface. Go to the shopping section, fill in the price and amount of your order, then click buy or sell and complete the transaction.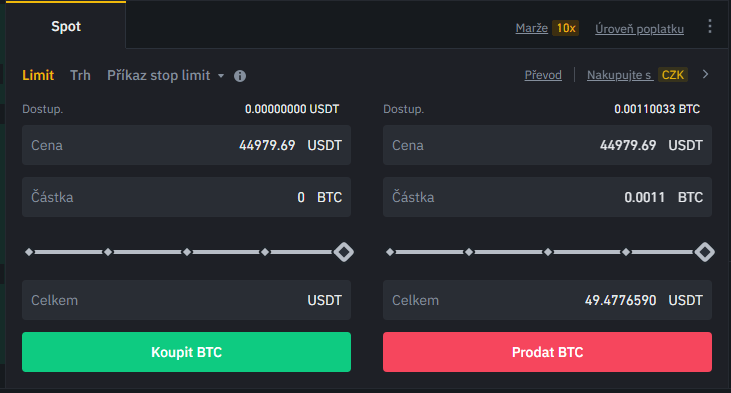 The default order type is called the limit order. However, if traders want to execute the order as soon as possible, they can switch to Market. By choosing the market order, traders can execute transactions immediately at current market prices.
The stop limit command allows you to manually set under what conditions and how the stock exchange should sell cryptocurrencies for you.
Binance futures, margin trading and options
Binance has developed several different options for leveraging. The spot trading exchange has a separate function for trading certain cryptocurrencies with a margin of up to 10 times the leverage effect. At the same time, it launched the integrated Binance Futures platform, which allows you to trade options up to 125 times.
But what is the key difference between these ways of trading?
In addition to the significant difference in leverage, the two types of trading are fundamentally different:
At margin trading the stock exchange, in this case Binance or its users, lends you the additional funds needed to open a position with a 1:10 leverage effect. You will be charged the usual 0.1% trading fee as well as a constantly changing daily interest fee.
Binance Futures allow leverage 1: 125. Here you do not buy cryptocurrencies directly, but only the contractual representation of the commodity. Unlike traditional futures, Binance Futures also do not have an expiration date, so their trading is very similar to spot trading on the spot market. In addition to the trading fee, you also pay a fee for regular financing.
Binance options. An option is another type of permanent contract. Binance Options is an option contract that gives traders the opportunity to exercise the contract at any time before the expiry date. The validity period ranges from 10 minutes to 1 day.
Margin trading
Click at the top of the screen Trading and then go to the tab Margins.
The stock exchange divides financial leverage into isolated and cross.
Cross lever - within the cross margin, any available balance of the relevant margin account is used to meet the maintenance margin requirements and to avoid liquidation. Any corresponding available balance may be lost in the event of liquidation.
Isolated lever - below the isolated margin, a specific margin amount is applied to the position, ie the initial margin, while the position margin can be adjusted manually. In the event of liquidation, you may lose the initial margin and the extra margin added to this position.
Make sure you have funds transferred in your margin wallet. Click on in the upper right corner Wallet and select from the drop-down menu Margins.
You will see two modes in margin trading:
ModeBorrow": During trading, you can borrow and use funds at the same time. You will only borrow the amount needed for trading. The system automatically calculates the maximum amount available based on the amount of funds in your margin account.
ModeRepay": It helps you repay the debt as soon as you stop using the funds so that you do not have to pay any additional interest. The system will automatically repay your debt using the proceeds of the transaction. (Interest is repaid first and then the borrowed funds.) Automatic repayment is made only after the transaction is completely closed.
Binance Futures
When trading futures, you can take advantage of market movements and make profits from long or short positions in futures contracts. When a trader enters a long position, he buys a futures contract and expects its value to increase in the future. When he enters a short position, he sells a futures contract and expects prices to fall in the future.
On the Binance Futures platform, you can enter long or short positions with leverage, thus reducing risk or seeking profits in volatile markets. Follow these steps to start trading on the Binance Futures platform:
To your futures wallet USD-M put USDT, BUSD and other cryptocurrencies, such as BTC, in your futures COIN-M as a margin. Then click on the top bar Derivatives, go to the Binance Futures overview and select one of your preferred markets.
Choose your preferred leverage level and the appropriate order type (buy or sell).
Binance options
The Binance Options platform offers three types of commands: Buy a call, Buy a put and Purchase Vol. If you have a bullish sentiment about the market, you can buy a call; if bear, you can buy a put. If you want to benefit from moving the market in any direction, you can use Purchase Vol.
You can then select an expiration time: 5 minutes, 10 minutes, 30 minutes, 1 hour, 4 hours, 8 hours, 12 hours or 1 day. Next, select the type of order and enter the required quantity. Click the button Confirm enter the command.
Binance Finance
In addition to spot, margin, futures trading, the exchange has also developed a set of financial services that are available to every registered and verified user. These include:
Binance Savings. Binance Savings is a product that allows you to earn cryptocurrencies by investing assets for a short (flexible) or long-term (locked) period. By flexibly adding assets, you get a little over 1% annual return, while by locking your assets for a while you can get up to 15% a year.
Binance Staking is another alternative way to make money while holding. Staking is currently used by many protocols. At the moment, the stock exchange allows you to stack nine cryptocurrencies and the estimated annual yield ranges from 1 % to 16 %.
Binance debit card. The stock exchange introduced its card Binance Cardthat allows you to buy cryptocurrencies worldwide, just like a regular bank card.
Crypto Loans Binance. Crypto loans from the stock exchange allow you to borrow stablecoins, such as USDT or BUSD, for a period of time using collateral in cryptocurrencies.
BNB Vault is a service that allows you to earn thanks to the BNB in your portfolio with a single click. It is a capital-secured investment product with a user-friendly interface. It helps users maximize the revenue potential of their BNB from both centralized and decentralized funds. It connects different products within the whole ecosystem. It also allows HODLers BNB to maximize revenues and take full advantage of all available opportunities. With a single click in the BNB Vault, held BNBs are flexibly allocated to different products. Users can get the maximum potential rewards.
Liquidity farming is a new product on Binance Earn, thanks to which you can get additional rewards in the form of BNB for swap certain pairs of tokens.
The Binance Finance product line will grow in the future and it remains to be seen what other innovative services the exchange will introduce for the global crypto community.
Binance Launchpad
Users also have access to the first and one of the best IEO launchpads (Binance Launchpad). Since the end of 2017, the Exchange has started to mediate IEO between buyers and sellers and has already launched many successful IEO projects.
IEO participants must hold at least some BNB (Binance Coin), but also be lucky in the lottery, which determines the order in which participants will be given the opportunity to buy new coins.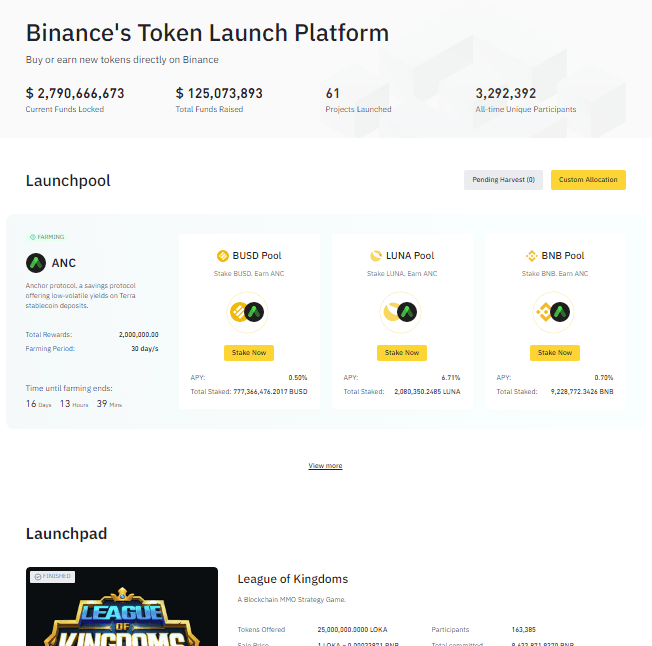 Binance Launchpad's average return on investment is the highest of all other exchanges.
Deposits and withdrawals
The exchange allows users to buy virtual currency directly using their Mastercard and VISA payment cards. To use this feature, click on the "Buy cryptocurrency"And then select the option to purchase cryptocurrencies using a credit card.
Another method of buying cryptocurrency on the stock exchange is to first send virtual currencies from other wallets.
Fiat-to-crypto deposits can also be made through third party service providers, but have their own service fees ranging from 1 % to 7 %. Supported fiat deposit and withdrawal methods differ for each fiat currency.
Cryptocurrency selection is a quick process on the stock market. To select your cryptocurrencies, click in the upper right corner Wallet, then on Fiat and Spot Wallet, Find the cryptocurrency you want to select and click on Choose.
Binance zkušenosti
Martin K.: "Binance je jedna z největších burz na světě a mám s ní velmi pozitivní zkušenosti. Jejich nabídka kryptoměn je ohromná, a mohl jsem zde obchodovat s různými aktivy. Binance také nabízí mnoho užitečných funkcí pro pokročilé obchodníky, a jejich aplikace je skvělá."
Lucie P.: "Ověření totožnosti na Binance bylo snadné a rychlé, a platforma je přehledná. Mají širokou škálu obchodních párů, což mi umožňuje diversifikovat mé investice. Nikdy jsem neměla problém s výběrem prostředků."
Pavel H.: "Binance je pro mě ideální volbou pro obchodování s kryptoměnami. Jejich poplatky jsou férové, a platforma je spolehlivá. Mám zde svou kryptoměnovou peněženku a věřím, že jsou důkladní v ochraně mého majetku."
Jana R.: "Používám Binance již několik let, a mohu říci, že je jedna z nejlepších burz na trhu. Jejich zákaznická podpora je vždy rychlá a ochotná pomoci. Jsou transparentní a dbají na bezpečnost svých uživatelů."
Tomáš S.: "Binance je pro mě nezbytnou platformou pro obchodování s kryptoměnami. Mají intuitivní rozhraní, a jejich mobilní aplikace je skvělá pro obchodování na cestách. Díky nim jsem se stal lepším obchodníkem."
Zkušenosti uživatelů ukazují, že Binance je oblíbenou burzou díky své široké nabídce, nízkým poplatkům a bezpečnosti. Samozřejmě, zkušenosti mohou být individuální, a je vždy důležité provést důkladný výzkum a zvážit své vlastní potřeby a očekávání před použitím této burzy.
Security Binance
Security on the stock exchange is generally good, although the stock exchange was hacked in May 2019. It lost more than 7,000 BTCs due to a number of compromised user accounts and used its #SAFU (Secure Asset Fund for Users) fund to compensate users. Since then, the stock exchange has strengthened its security by introducing the Universal 2nd Factor (U2F) authentication method and improving its stock market monitoring capabilities.
In addition, the Exchange encourages users to enable 2-factor authentication (2FA) using Google Authenticator or SMS authentication. Merchants also have the ability to add addresses to the whitelist and set an anti-phishing code. The support section also has a fairly extensive security FAQ that advises its users on how to prevent phishing attempts. Each withdrawal from the stock exchange must be confirmed by email and telephone number.
Since 2021, the stock market has boasted state-of-the-art artificial intelligence (AI) risk management solutions that use identity and face recognition, big data analysis and cyber forensic investigations to track every move that takes place on the stock market and identify suspects. activities.
In July 2018, the company launched the aforementioned Secure Asset Fund for Users (SAFU) and allocates 10 % of all business fee income there. In the event of a successful hack, it is used to cover user losses, as was the case with the May 2019 security breach.
Overall, it is a very safe stock exchange, but security is not its hallmark and there is some room for improvement.
Výhody
Very low fees
Easy to use, fast settlement
Possibility to use fiat to buy and sell cryptocurrencies
A wide range of cryptocurrencies
High liquidity
One of the most innovative stock exchanges
Nevýhody
No business pairs of fiat currencies
No customer support phone
Security breaches in the past
No privacy measures
Závěrečné shrnutí

The platform is exceptionally passionate about experimentation and advancing cryptocurrency services. The exchange offers some of the lowest possible trading fees and provides the opportunity to buy and sell Bitcoins and another 180 altcoins per fiat. On the one hand, it provides futures, options and margin trading for more risk-tolerant users, while on the other hand, there are savings and staking programs for less risky traders. The only area that lacks praise would be privacy measures, which is a complicated matter in the current regulatory environment. Overall, Binance offers an excellent set of services for all types of cryptocurrency users.
FAQ
How to withdraw money from Binance?
To withdraw money from Binance, you need to login to your account and click Withdraw. Then click on the Fiat tab and select the fiat currency you want to withdraw. After choosing a payment method, enter the required information and enter the verification code.
How long does Binance verification take?
The Binance verification process is straightforward and simple. It usually takes 15 minutes to submit all the required information and document, and then it takes Binance 10 days to review these documents.
How to convert from Binance to Coinbase?
Přejděte na Coinbase, klikněte na Odeslat/Přijmout a vyberte kartu Přijmout. Klikněte na aktivum, které chcete převést. Zkopírujte adresu, kterou vám Coinbase poskytne, a přejděte na web Binance. Na webu přejděte do sekce Fiat a Spot a klikněte na Odvolat. Vyberte kryptoměnu, kterou chcete vybrat, a do sekce Adresa vložte adresu Coinbase. Po zadání částky výběru vyberte Vybrat.
How to stack on Binance?
There are several ways to bet your cryptocurrency on Binance, such as DeFi bets, Activities features that allow you to earn rewards for bets on a particular cryptocurrency for a period of time, and ETH 2.0 bets.
How to withdraw Fiat from Binance to a bank account?
Go to Wallet in your account and then to Fiat and Spot. Click Select, select [USD] - [Bank Transfer (SWIFT)] under the Fiat tab and enter the amount you want to withdraw. Click Continue and enter your account details. Confirm selection.
How to sell at Binance?
To sell in Binance, you must log in to your account. Then click on the trading button and click on Sell. Select the cryptocurrency you want to sell and enter the amount you want to sell. Once you have done that, choose how you want to receive fiat currency.
How to buy cryptocurrencies at Binance?
Click Buy Now in your Binance account and enter the amount you want to spend. Click Continue and choose the form of payment you'd like to use. If you want to shop using a debit / credit card, click [Visa / Mastercard] - [Continue]. Enter your card information and follow the instructions and click Continue.
How to short Binance?
Chcete-li shortovat bitcoiny na Binance, přejděte na účet Futures. Klikněte na záložku Obchody a poté na Možnosti. Bude vám nabídnuto pět možností vypršení platnosti a musíte si vybrat jednu z nich. Do pole Množství zadejte velikost smlouvy a klikněte na Koupit hovor. Klikněte na Potvrdit.
How to switch from Coinbase to Binance?
You must find the cryptocurrency you want to convert in your Coinbase account and then click Receive. Coinbase will generate the address you need to copy. Go to Binance, then go to Funds and click on Select Bitcoins. Copy the Coinbase wallet address into the To box and follow the instructions.
Interesting events for our readers