Kde koupit a prodat Bitcoin a kryptoměny s cílem získat nejlepší sazby
Want to trade Bitcoin and other cryptocurrencies but don't know where to start? One of the first things you need to do is find the best Bitcoin exchanges and cryptocurrency exchanges. Find the perfect place to buy and sell cryptocurrencies. There are a wide variety of platforms available, read on to compare your options. Find out which is the best broker for trading cryptocurrencies.
Co jsou to Bitcoin burzy a směnárny kryptoměn?
A cryptocurrency exchange is an online platform for trading, buying and selling cryptocurrencies. Some exchanges allow trading through fiat currencies (eg USD). While other exchanges allow you to buy cryptocurrencies using another cryptocurrency (eg Bitcoin (BTC) and Ether (ETH)).
Existují burzy navržené pro začínající obchodníky s kryptoměnami Jakoje Binance, ByBit apod. Stejně tak jako platformy určené pro instituce.
Since not every exchange supports all available cryptocurrencies and tokens, you may need to use multiple cryptocurrency platforms to buy and sell certain cryptocurrencies or currencies.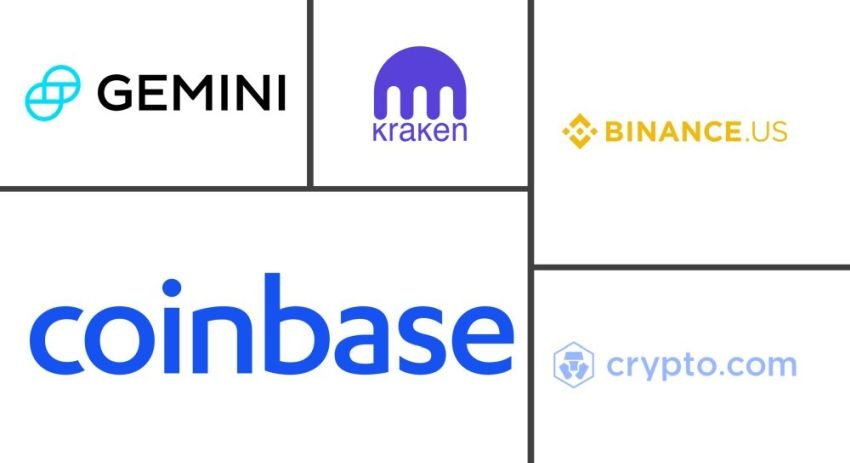 Different types of cryptocurrency exchange
The term exchange can be used for a variety of cryptocurrency platforms:
Brokers
Best suited for newbies and users looking for a quick and easy way to buy cryptocurrencies.
Weaknesses: more expensive than other options, there may not be as wide a selection of cryptocurrencies.
Brokers often offer the easiest and most convenient way to buy cryptocurrencies. Buying Bitcoin or any altcoin from a broker is basically like buying from a cryptocurrency store. The broker buys cryptocurrencies or tokens at wholesale rates. He then adds his own margin and then sells the currency to you.
Brokers offer quick and direct entry into the world of cryptocurrencies. Their platforms are designed to be easy to use and you can pay for your purchase using fiat currency. Often even using a credit or debit card.
The main disadvantage of this option is the price. You will also have to pay transaction fees. The best brokers for trading cryptocurrencies are Coinbase and CoinSpot, for example.
Trading platforms
Best for buying and selling a wide range of currencies, lowest fees.
Platforms can scare off new users and it may not be directly possible to exchange the required currencies.
Cryptocurrency trading platforms are among the most widely used for buying and selling cryptocurrencies. They connect buyers with sellers and charge a fee for facilitating each transaction.
You can use these platforms to exchange cryptocurrencies at the current market rate or a set limit. Some sites also offer more advanced features. These are, for example, stop-loss orders.
Trading platforms tend to provide access to a more diverse range of currencies than brokers and often help you plan your trades using charts. These platforms offer lower fees and better rates compared to brokers.
However, it is not possible to directly exchange one cryptocurrency for another cryptocurrency. You are limited to the trading pairs that are supported by your chosen platform. Bitcoin and Ether are the most commonly traded cryptocurrencies and are paired with a wide variety of altcoins.
Cryptocurrency trading platforms can also scare and confuse new users.
Examples of high-volume trading platforms include Binance and Bittrex.
Peer To Peer exchanges
The best solution for maintaining anonymity that gives you more control over your business.
Disadvantages: prices usually higher than market rates, some degree of risk.
These platforms enable direct P2P trade between people around the world. The exchange acts as an intermediary, while the seller is able to set his own price and payment methods.
The main advantage of P2P exchanges is that they allow you to quickly and anonymously buy or sell coins for any kind of trade or payment method.
The downside is that you'll often pay above market prices and it can also be riskier than other options. To balance the risks, some platforms build escrow functions and reputation systems to identify reliable buyers and sellers.
Examples of P2P exchanges include LocalBitcons and Paxful.
Centralized vs. decentralized exchanges
If you research P2P exchange information, you will also come across the concept of decentralized cryptocurrency exchanges. Many (but not all) P2P exchanges can also be decentralized.
Decentralized exchanges (DEX) are located in a network of distributed nodes and allow trading with other users.
The absence of centralization means better protection against hackers, and other problems do not include server outages. Trades are executed using smart contracts. You can trade directly from your wallet. This will ensure you stay in control of your cryptocurrency.
How to choose a cryptocurrency exchange
There are over 200 exchanges to choose from. How to find the best cryptocurrency exchange for your needs? The most important step is to research a wide variety of platforms.
Comparison of advantages and disadvantages of individual options. When comparing exchanges, you should consider the following factors:
Types of trading
First, consider the types of business you want to deal with. There are exchanges that offer:
trading from FIAT currencies to cryptocurrencies
trading from cryptocurrencies to FIAT currencies
both trading options – FIAT currencies to cryptocurrencies and cryptocurrencies to cryptocurrencies
If you are buying BTC with US dollars, you need to find an intermediary that will allow you to buy the coins by bank transfer or credit card.
To exchange BTC or ETH for another cryptocurrency, you will need a platform that offers direct crypto-to-crypto trades.
Business couples
Consider which cryptocurrencies you want to trade. Furthermore, which platforms register these currencies in one or more trading pairs:
Cryptocurrencies: there are more than 1,600 cryptocurrencies. Don't expect to find them all on one platform. Major cryptocurrencies such as BTC, ETH, XRP and others in the TOP 20 are listed on many exchanges. Rarer altcoins can be much harder to find.
FIAT currencies: if you want to buy cryptocurrency with one or more FIAT currencies, find out in which currencies the platform accepts deposits.
Fees
Deposits, trading and then withdrawing funds. How much will it cost you to buy and sell cryptocurrencies on each platform? Don't forget to consider the payment methods and currencies you want to use. Furthermore, possibly discounts to which you are entitled.
Limits
It is important to find out if there are any limits on the amount you wish to deposit into your account. What is the maximum amount you can buy and sell cryptocurrencies in one day or one transaction. Also, check if there are any restrictions on withdrawing funds from your account.
Remember that there may be minimum and maximum limits, so it is important to check that the platform is suitable for the size of your trades.
User friendliness and merchant tools
If you are a newbie, getting started with buying and selling cryptocurrencies can be complicated and confusing. Experienced traders may want a platform with special features. These are, for example, advanced charts, order types or the possibility to trade on margin.
If you are a beginner, try a platform with a simple user interface.
Easy access
How do you access your trading account? Many platforms offer web-browser-only trading. Some platforms offer mobile and or even desktop applications.
For example, if you want to trade on the go, find out about the most suitable mobile application.
Loyalty programs and discounts
Is there any way you can reduce your trading fees? For example, whether you are entitled to fee discounts because you own the exchange's native currency or have the right to use these tokens to pay transaction fees.
Next, is there a fee structure that rewards high volume traders with reduced fees. Loyalty programs even offer additional benefits. For example, access to exclusive events and the opportunity to receive a share of the platform's revenue.
Exchange rates
There is no official Bitcoin price. It is determined by what people are willing to pay. Compare the exchange rates of different cryptocurrency exchanges and you might be surprised to learn how they can vary between different platforms. The difference can be as much as 10% in some cases, which can have a big impact on the success of the trade.
Liquidity
The level of liquidity in an exchange affects how easily and quickly you can trade. If there is a high level of liquidity, then trades should be completed easily and quickly. In case the stock exchange trades in large volumes.
The biggest advantage of trading on large exchanges is getting enough orders. Then they match the seller and the buyer without any hassle.
Low liquidity can lead to significant price fluctuations. You can check the trading volumes of various exchanges on CoinMarketCap.
Method of payment
More payment options mean more convenient use of the exchange. Find out how you can deposit funds into your account. Whether it is possible to use bank transfer, credit card or PayPal.
Check what options the exchange offers for withdrawals and deposits and which method is most suitable for you. It is also important to find out the fees that are associated with different payment methods.
Account verification process
If privacy is important to you when trading cryptocurrencies, there are platforms that allow you to trade anonymously. Also, find out if there is anything that could prevent the platform from disappearing overnight (hopefully not with your funds).
Many platforms require account verification before trading. The move is to ensure that the exchange meets its obligations under the Anti-Money Laundering and Counter-Terrorist Financing (AML/CTF) regulations.
Verification requirements vary between exchanges, but you'll likely need to provide:
Your name
email address and phone number
address
proof of identity
proof of address
your photo with the signed declaration
If you will have to provide a lot of personal information, find out if it is a trustworthy exchange. Also, be sure to research the length of the verification process. Some exchanges may require you to complete an additional verification task. This involves increasing transaction limits or unlocking complete account functions.
Processing times
How long does it take to complete a transaction and how soon are account withdrawals processed? Missing out on a business opportunity due to a delay in transferring funds can be frustrating.
You spend days waiting for your funds to arrive in your account or wallet. This can be a very frustrating experience. Therefore, first find out how long the transfers of funds take.
Safety features
Security is essential when choosing a cryptocurrency exchange. History is full of famous examples of hacking. Unsuspecting users have become victims of theft and fraud. Check what security protection options are available to you so you don't lose your funds.
You should consider the following questions:
Is two-factor authentication supported?
Are customer funds held in online or offline wallets?
Do I control my private key or does the exchange take care of it?
What level of verification is required to create an account?
Does security monitoring work 24/7?
Will I receive an email or SMS alert regarding account activity?
Does the exchange use email encryption?
Does the exchange provide proof of reserve?
Ordinance
Although authorities around the world are trying to catch up with the rapid growth of cryptocurrency exchanges, the industry as a whole is constantly regulated. How an exchange is regulated depends on where it is based.
Many central banks around the world have called for stricter regulations to discourage anonymous trading and increase transparency.
Even though the US did not agree on new regulations. It should also be noted that due to regulatory requirements, users from some countries will not be able to access certain exchanges. Please check if any restrictions apply to you before registering.
Customer support
This is a crucial but often overlooked factor when comparing cryptocurrency exchanges. If you ever have a problem with a transaction or with your account, it's important to know how to contact the customer support team. You will need to further consider the following points:
Can I contact customer support via email, phone or live chat?
Is there an online support center where it is possible to issue a ticket?
Is the support center available 24/7 or only at certain times?
How quickly does the support team respond to questions?
If the exchange is established in a country where English is not the main language, is it possible to access language support in English?
Does the support center website have answers to a number of frequently asked questions and instructions or videos that explain how to trade?
Does the platform have a good reputation for providing fast and quality support?
Reputation
Does the exchange appear reliable and safe? Read online reviews from other users to learn about experiences both positive and negative. Where are the strengths and weaknesses of the stock market? Find out how long the exchange has been operating and whether it is fully insured.
Doporučujeme TOP Binance burzu s největšími bonusy
Buying and selling cryptocurrencies
Information and instructions for buying and selling cryptocurrencies on exchanges.
Buying cryptocurrencies with FIAT currency
Let's say you have $500 that you want to use to buy Bitcoin.
Compare brokers and find one that offers the right service for you.
Create an account on the given platform and enter your personal information, proof of identity.
Go to the "Buy" tab.
Select Bitcoin as the cryptocurrency you want to buy.
Select the currency of your payment, which in this case is USD. Enter the amount you want to spend per $500.
Enter the payment method. For example, bank transfer or credit card.
Enter your payment information. Account number or routing number for bank transfer or card number and CVV code for credit card payment.
Check all details about your transaction, including fees and BTC amount.
If everything is fine, click the "Buy BTC" button.
Once the transaction is processed, the BTC will appear in your wallet. However, some brokers automatically send the purchased BTC to an external wallet address you choose.
Buying cryptocurrency with another cryptocurrency
In this scenario, let's assume you have 1 BTC that you want to exchange for ETH. Here are the steps you need to follow if you want to trade on a centralized exchange:
Compare platforms and find one that offers the right service for you.
Register an account on the given platform and enter your personal information, proof of identity.
Login to your account and find your BTC wallet address for your account.
Use this address to transfer 1 BTC.
Go to the "Exchange" or "Trading" page.
Search for the currency pair you want to trade. Which in this case is BTH/ETH.
In the "Buy" field, choose the type of order (e.g. market or limit order).
Enter additional transaction details. For example, enter the amount of BTC you want to spend. If you are placing a limit order, you must enter the desired price for ETH.
Review all transaction details including exchange rate and fees.
Click the "Buy ETH" button.
Once the transaction is processed, the purchased ETH will be deposited into your wallet.
However, if you are using a decentralized exchange, the process is a little different. You will need to link the wallet to your account. But after that you will be able to trade from wallet to wallet. You are not depositing funds on the stock market.
Selling cryptocurrencies and withdrawing funds
To sell a cryptocurrency such as Bitcoin, you will need to do the following:
Log in to your account and find your BTC wallet address.
Use this address to transfer the BTC you want to trade from an external wallet.
Go to the "Exchange" or "Trading" page.
Search for the currency pair you want to trade. For example BTC/AUD or BTC/ETH.
Enter the transaction details in the "Sell" box. Depending on the platform you use, you may be able to sell at market price or potentially create a limit order.
Review all transaction details including exchange rate and fees.
Click the "Sell BTC" button.
Once the transaction is processed, the currency you purchased will be deposited into your wallet.
You can now withdraw funds from your account. The process depends on whether you purchased cryptocurrency or FIAT currency:
If you purchased FIAT currency, select the "Withdraw USD" option from the main account panel. Select the desired payment method (for example, bank transfer, PayPal). Enter all necessary account information to process the payment.
If you have purchased cryptocurrency, you must first set up a secure wallet. You can store your coins there. Copy the address of this wallet, log into your account and select the currency for the transfer. Make sure you are sending money to the correct wallet before sending the transaction.
Exchange payment methods
The exchange accepts a variety of deposit methods:
Bank transfers
Credit and debit cards
Prepaid cards
PayPal, Neteller, Skrill and other online payment services
Cash deposits
Cryptocurrency transfers
However, not all exchanges accept all payment options. To make things not so simple, some exchanges accept one payment method for withdrawals but not for deposits.
Processing times, fees and limits may vary depending on the payment method you choose. Therefore, inform yourself and read the advantages and disadvantages of each payment method. While credit card deposits are processed quickly, there are high fees associated with them.
Bank transfer deposits do not incur any fees, but may take up to 2 days to process.
Fees
There are fees involved in buying and selling cryptocurrencies that you will need to be fully aware of. Fees may vary between platforms and include:
Deposit fees
Many exchanges do not charge any account deposit fees, but some do. These fees may vary depending on the payment method you choose and the currency you are transferring.
Trading fees
Trading fees are usually calculated as a fixed percentage of each transaction amount. Some exchanges charge a flat fee for all transactions, but other platforms offer different fees for:
Market maker (Market makers) – add liquidity to the market by entering limit orders
Market users (Market takers) – enter market orders that are immediately executed, removing liquidity from the market
Withdrawal fees
If you want to withdraw money from the wallet, you will need to be aware of the fees associated with the transfer. Cryptocurrencies are associated with a flat fee of for example 0.001 ETH. While FIAT currency withdrawals can be a flat fee or a percentage fee. Again, these fees vary depending on the currency being transferred and if you are withdrawing in FIAT currency, based on the payment method chosen.
How to avoid fraudulent cryptocurrency exchanges and exchanges
While laws and guidelines are gradually being put in place to help protect consumers from fraud, there are still plenty of exchange operators to avoid. Becoming a victim of theft is a major concern and concern of all shoppers.
What can you do to protect yourself from fraudulent cryptocurrency exchanges? There are a few simple steps you should follow:
Check if the exchange is registered with the SEC. Cryptocurrency exchange operators in the US must be registered with the US Securities and Exchange Commission.
Is the exchange regulated? If you are considering an overseas exchange, find out exactly where it is based and whether it complies with all relevant laws.
Do your research on the information. Don't be fooled by marketing gimmicks or a deal that sounds too good. Take the time to review the platform before opening an account and depositing funds.
Recognize the warning signs. Watch out for signals that indicate that the exchange in question is not very legitimate. For example, if there is no information about the company or its headquarters, proceed with caution. If other users are reporting issues involving lengthy withdrawals or disputes, you should exclude this platform from your selection.
Check the address. Whenever you visit an exchange server, check that its address starts with "https" and not "http". This means that all communication between your browser and the exchange server is secure and encrypted.
Use only established exchanges. Let other people take the risk of trading on new and untested exchanges. You'll sleep a lot better at night knowing you're dealing with an established, reputable exchange.
Next steps: How to get started
All cryptocurrency exchanges are not created equal and buyers, sellers do not share the same needs. A certain exchange may seem the best to some, but not to another. That's why you should do your research. Compare the features, fees, pros and cons of each exchange and consider how they fit your business requirements. This will ensure you find the right exchange to buy and sell cryptocurrencies.
Interesting events for our readers