In that ByBit review let's look at a global platform for trading in crypto derivatives, which prides itself on its quality leverage trading capabilities combined with advanced features, great interface and performance.
Basic information
✅

Page type
crypto derivatives exchange

✅

Easy for beginners
No

✅

Mobile application
Yes
🌍Company headquarters
Singapore
🌍Establishment of a company
2018
💰Deposit method
cryptocurrencies, BTC, ETH, EOS, XRP and USDT
💰Selection method
Cryptocurrencies, BTC, ETH, EOS, XRP and USDT
📉Number of pairs available
4
👮‍♂️Trust in society
high
☎Customer support
active, 24/7 Live Chat

✅

Own cryptocurrency
No

✅

Page
https://www.bybit.com/
ByBit reviews
Launched in 2018, the ByBit platform is a key player in the crypto derivatives market, user-friendly for both experienced and novice traders. The platform, led by CEO Ben Zhou, is based in Singapore, but its reach is already global thanks to an impressive range of features.
Margin trading with up to 100 times leverage. You can trade perpetual contracts for Bitcoin, Ethereum, EOS and XRP with up to 50x, 100x or of course with a lower leverage to find the right balance between risk and profit.
Multi-currency support. At ByBit you have the ability to insert, select and open positions in BTC, ETH, EOS, XRP and even USDT (not available for trading, only hedging). You can easily convert cryptocurrencies using the internal Asset Exchange feature.
Low fees. ByBit offers some of the most competitive margin trading fees on the market.
No KYC procedure. The platform does not request any personal or private information from you.
Powerful and well-designed business interface. ByBit has a robust, powerful and well-designed platform and is easy to use, full of advanced features. It can process up to 100,000 trades per second.
Secure platform. The Exchange has no hack, breach or leak of user information in its history.
24/7 customer support. Support is available in several languages and takes the form of live chat and email.
Overall, ByBit is a relatively fresh and ambitious exchange for margin trading and a viable alternative to competing leverage trading sites such as BitMEX or PrimeXBT.
Bybit is a relatively new stock exchange that started in 2018 on the bear market. Although headquartered in Singapore, the stock exchange is listed in the British Virgin Islands as Bybit Fintech Limited. In addition to Singapore, ByBit has branches in Hong Kong and Taiwan.
The founding team of ByBit has a strong background and experience in Forex, investment banking and blockchain technology. The CEO of the stock exchange is Ben Zhou.
During the first two years of operation, ByBit gained more than 100,000 users from North America, Europe, Russia, Japan, South Korea and other prominent crypto markets.
Design
ByBit boasts a clean design of its main business screen. The layout design is aided by its color palette, whose elegant background is complemented by a clear business screen. The various components of this interface are organized in a minimalist way, with no function remaining in the background or playing a second violin in front of the others.
The order book and windows of recent business history fit perfectly into the overall layout. Trading functions can be managed from a dedicated area on the right side of the screen, including access to contract details, market activity and help resources.
Resource and position overview windows are easily accessible and traders can switch positions on the screen depending on their preferences. ByBit allows easy manipulation of the scale design parameters themselves, including the location of its axis, indicator data and percentages. The basic color scheme can also be changed along with all metrics listed on the screen, including the merchant's time zone.
Given that derivatives trading operations are often complex, it is clearly a plus, whether it is a professional or a beginner.
ByBit fees
Traders are classified as market takers or market makers. For each executed order, either a trade fee or a trade discount is charged.
Traders seeking liquidity and withdrawing it immediately will be charged a trading fee. Market makers who provide liquidity and deepen the order market will receive a rebate (negative trading fee) from Bybit.
The trading fee is deducted from the account balance and does not affect the initial margin of the order.
ByBit is a fair exchange when it comes to trading fees. It charges 0.075 % for market takers and pays 0.025 % to market makers, which is a relatively low price in the industry.
| Contract | Max. Lever | Maker Rabat | Taker Fee | Financing rate | Funding Rate Interval |
| --- | --- | --- | --- | --- | --- |
| BTC / USD | 100x | -0.025% | 0.075% | 0.0416% | Every 8 hours |
| ETH / USD | 50x | -0.025% | 0.075% | 0.0689% | Every 8 hours |
| EOS / USD | 50x | -0.025% | 0.075% | 0.0980% | Every 8 hours |
| XRP / USD | 50x | -0.025% | 0.075% | 0.0692% | Every 8 hours |
In addition to business fees, users also incur a financing fee that identifies funds exchanged between buyers and sellers. A positive funding rate means you paid to fund someone, while a negative funding rate means you get it.
ByBit does not charge any deposit and withdrawal fees. The platform will only ask you to cover network fees during withdrawals that are fixed.
| Coin | Bitcoin (BTC) | Ethereum (ETH) | XRP | EOS | Tether (USDT) |
| --- | --- | --- | --- | --- | --- |
| Charge | 0.0005 | 0.01 | 0.25 | 0.1 | 5 |
As you can see, the services provided by ByBit are not expensive. In terms of fees, ByBit competes with other platforms with low fees and high leverage, namely BitMEX, PrimeXBT and PrimeBit. However, ByBit differs from the group in that it is the only exchange for trading with multiple currency margins in this cluster, while the others are so-called Bitcoin-only platforms.
Last but not least, ByBit has an integrated exchange office, which allows swaps of various cryptocurrencies within the platform. Each swap comes with a different rate, but if the difference between the quotation rate can never be greater than 0.5 % per swap.
In short, ByBit is a very competitive stock exchange in terms of fees and unique features.
ByBit tutorial
How to create an account on ByBit
Go to the Bybit via homepage via this linkwhere you can get a bonus of up to $ 500. If you register an account via our link, you will receive a bonus $ 10 right after creating an account and more up to $ 90 after completing smaller tasks. This credit cannot be withdrawn and must be used for trading on the platform.

Register by email or phone number. You will receive a verification code immediately by e-mail or telephone. After activating your account via e-mail or SMS, you can start trading immediately.
Bybit offers you three types of trading products: spot trading, derivatives trading and decentralized finance (DeFi)
Spot trading
For traders using the web trading page, go to the Bybit homepage, click on "Market" in the navigation bar and go to the spot trading tab.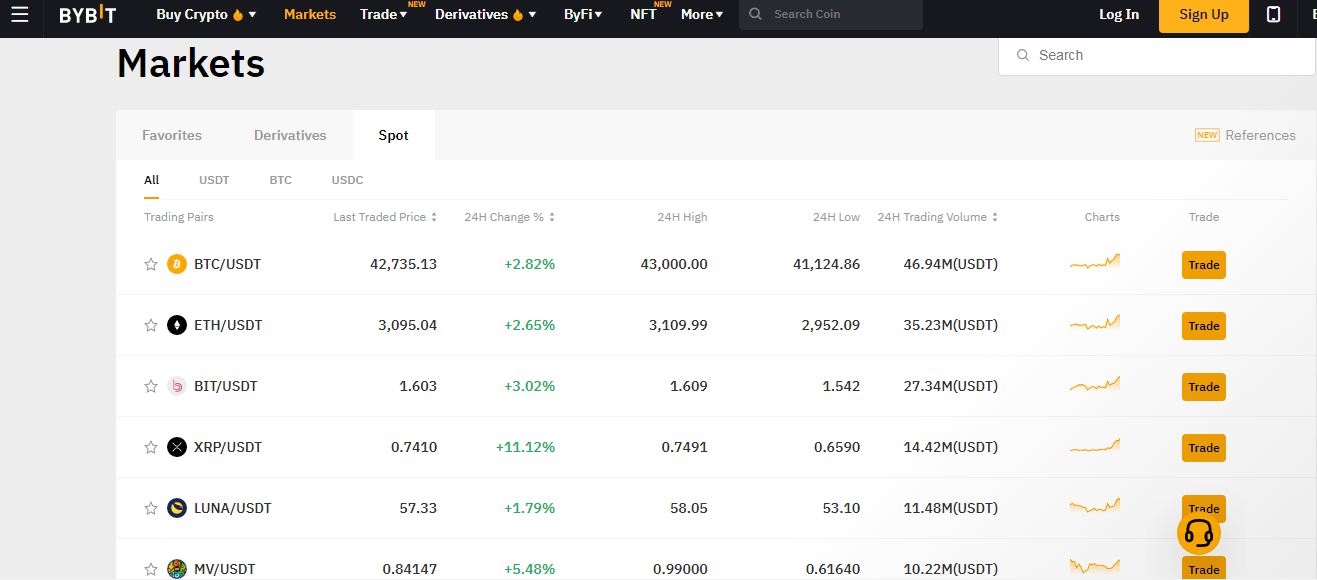 Find the business couple you desire. You will get to the Bybit trading interface. On the left side of the page you can see all trading pairs, as well as the last traded price (USDT) and the 24-hour percentage change of the corresponding trading pairs.
Types of commands
Limit - the limit order will be included in the order book as opposed to immediate processing. Until a counterparty is found that agrees with your terms and conditions, the order will not be executed until then.
Market - The current market price is traded on the market order. The order will be processed immediately and you do not have to wait for the other party. You do not have to enter a price, as the current price will always be filled in automatically by the stock exchange itself.
Conditional - When the preset trigger price reaches the last market price, the conditional market order will be filled in immediately, while the conditional limit order will be entered in the order book and will wait for execution. This means that when the price exceeds the trigger price, either the limit or market order is filled in, depending on what you choose.
Derivatives trading
ByBit supports leverage trading based on the value of the derivative you want to use for trading.
Leveraged trading is a slightly riskier option, so it is better to leave it to more experienced traders who are able to use the platform's offer to trade BTC / USD with 100-fold leverage. The combination including ETH, EOS and XRP offers a leverage effect of up to 50x maximum, which is still an attractive option for risk lovers. The platform offers higher leverage compared to conventional trading platforms such as Kraken or Binance, but is smaller compared to PrimeBit.
Expenses related to financing are covered by interest rates and calculated premiums and discounts. As we noted, the amount of fees you pay in terms of derivatives depends on your capacity to support the liquidity of the platform. In this case, the market maker will be entitled to a discount (of 0.025 % for each trade). Otherwise, regular traders will have to pay 0.075 % per trade.
Insurance and liquidation scheme ByBit
Because the settlement of futures contracts carries various risks, the ByBit team came up with an insurance fund mechanism. Its resources will become available if the trader goes through a liquidation that falls below the price considered to be bankrupt, ie his initial margin is erased. The platform also includes several mechanisms for solving this advanced business segment:
The stop-loss mechanism on positions prevents them from reaching rates that result in liquidation.
Automatic margin replenishment is used to maintain margins at a satisfactory level whenever there is a risk of depletion.
The dual pricing mechanism is introduced to reduce the risks of market manipulation by introducing a mark-price (Bitcoin's global price), which is tied to liquidation, and the last traded price, which serves as the basis for the calculation at closing (market price on ByBit)
ByBit also implements a system that supports automatic debt relief. It is activated if the position is unavailable for liquidation and the insurance fund is unable to cover it. In this case, this system can automatically defer the position of the trader based on predefined settings.
Understanding at least the basics of this type of cryptocurrency trading is a must, as ByBit expects its users to be familiar with terms such as "derivatives", "leverage" and "perpetual contracts". What it does is it provides traders with an accessible environment in which derivatives are bound to cryptocurrencies and made available for trading on the basis of available leverage.
Perpetual futures contracts are used in a similar way to standardized futures contracts, which means that they represent agreements to trade an asset or currency (or any other instrument) at a predetermined price at a specific time in the future. This allows users to try to profit from speculation on the prices that one of these assets may actually have in the future. Nevertheless, unlike what is found in traditional futures contracts, their perpetual contracts never expire.
The platform currently offers support for four markets. Supported cryptocurrencies are Bitcoin, Ethereum, EOS and XRP, with the US dollar serving as the second component of all pairs.
Derivatives trading - instructions
Go to the Bybit homepage. Click on "Derivatives" in the navigation bar and select the contract type and trading pair from the drop-down menu to enter the derivatives trading page.
Select the margin mode and adjust the lever.
The Bybit exchange, like Binance, divides financial leverage into isolated and cross.
Cross leverage - within the cross margin, all available balance of the relevant margin account is used to meet the maintenance margin requirements and to avoid liquidation. Any corresponding available balance may be lost in the event of liquidation. Please note that adjusting the leverage effect will affect all positions and active orders within the current pair.
Isolated lever - below the isolated margin, a specific margin height is applied to the position, ie the initial margin, while the position margin can be adjusted manually. In the event of liquidation, you may lose the initial margin and the extra margin added to this position. Please note that adjusting the leverage effect will affect all positions and active orders within the current pair.
As for the types of orders, the derivatives exchange has the same orders as the spot exchange.
ByFi
ByFi Center provides you with products for cloud mining and decentralized finance (DeFi). Before purchasing a plan, please make sure you have sufficient funds in your ByFi account. You can log in to your ByFi account and then click "Transfer" in the USDT column to transfer assets.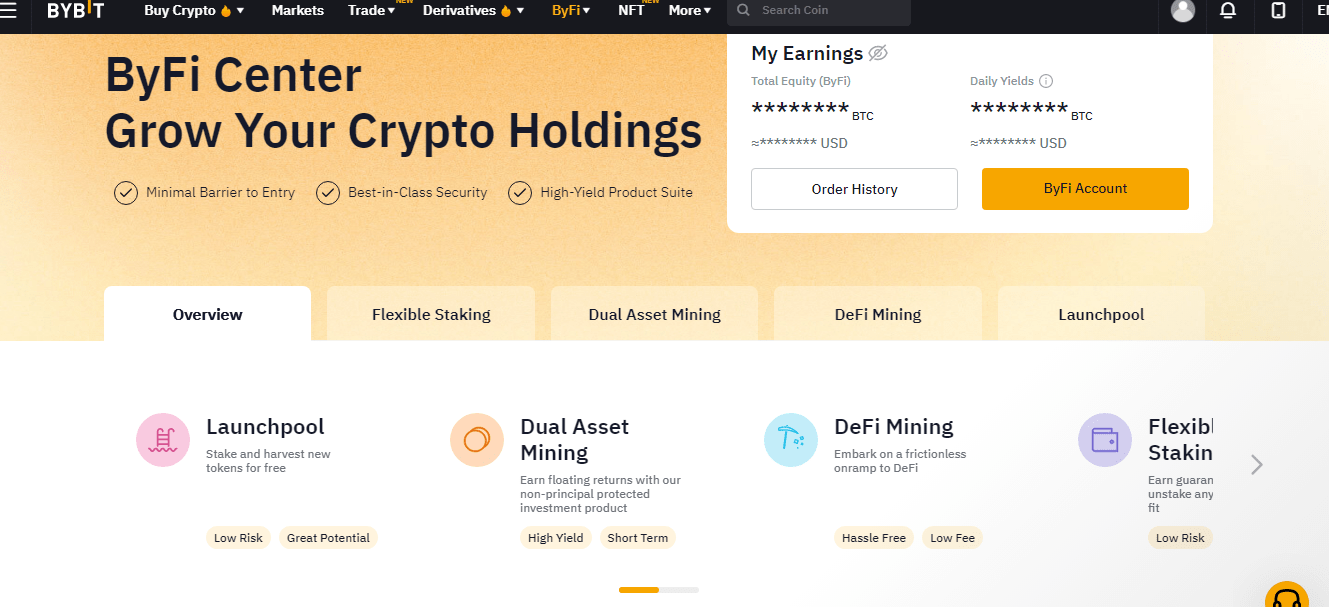 ByFi provides a robust and reliable stacking platform that allows you to obtain a healthy yield on multiple cryptocurrencies.
Flexible staking - ByFi allows you to insert tokens and earn high APY. So why is it "flexible?" It's simple: you can select your tokens whenever you want. Currently, ByFi allows you to stack the following cryptocurrencies (APY in parentheses): ETH (2.50 %), BTC (2.00 %), USDC (4.50 %), USDT (3.50 %). Keep in mind that the offered coins and the corresponding APY will constantly change depending on market conditions. The earned revenue will be automatically saved to your ByFi account on a daily basis.
Defi mining - You stack combinations of tokens for a predetermined number of days to earn returns.
Bybit Launchpool: Bybit Launchpool allows you to stack and earn revenue for free. The tokens you stack can be selected at any time. The project allows you to stack BIT, and thus earn it. Earnings depend on the amount of tokens you stack in proportion to the tokens stacked throughout the pool.
Dual asset mining - Dual asset mining, which is not a protected principal with variable returns, allows you to deposit your preferred asset and ensure an attractive return by providing liquidity. Bybit helps allocate Uniswap V3 liquidity in the optimal price range.
Bybit swap
For more convenient trading for its customers, ByBit also offers internal asset exchange - the ability to exchange coins directly on the platform, while any of the five currencies - BTC, ETH, EOS, XRP, and USDT - are currently supported for this type of operation. This adds a unique additional layer of functionality to the platform and makes it useful for traders who want to secure their assets and profits against price fluctuations.
The swap price is based on a real-time exchange rate when entering the currencies you want to trade. Each swap has its own quotation rate, and if the quotation rate differs from the real-time exchange rate by more than 0.5 %, the trade will not be executed. Therefore, the fee is not always higher than 0.5 % per swap.
Overview of other stock exchanges and exchange offices you will find here
Deposits and withdrawals on Bybit
Since February 2021, ByBit has been accepting BTC, ETH, EOS, XRP and USDT as trading deposits. The process begins by creating a ByBit account. The procedure is relatively straightforward.
The deposit is made in a relatively intuitive way, ie by clicking on the asset card, selecting a supported cryptocurrency and interacting with the Deposit option. Another way to buy cryptocurrency is through third parties directly from the site Bybit - Fiat deposit.
The platform has not set the minimum required deposit amounts, it does not charge any fees, except for the minimum fee for processing the operation on the blockchain. ByBit does not apply the same withdrawal principles, the minimum withdrawal amounts are:
Bitcoin: 0.0005 BTC
Ethereum: 0.01 ETH
EOS: 0.1 EOS
Ripple: 0.25 XRP
Tether: 5 USDT
ByBit security
ByBit will not let you go through the know-your-customer (KYC) procedures, which means that you will not be asked to submit ID documents or any similar information for trading. However, this does not mean that the platform has security moved to the other track. In addition to two-factor authentication (2FA) via email, SMS and Google Authenticator, the platform will offer the storage of customer tokens in a number of offline (cold) wallets located on a secure website.
The transfer of deposited funds is regulated by the use of multi-signature addresses. This means that the platform uses multiple keys to sign wallet transactions. Thus, no person will have too much power in dealing with assets stored on the stock exchange. Part of the funds needed for immediate withdrawals is kept in the equivalent of hot wallets.
The platform also uses SSL encryption to power its communications engine, with the addresses and passwords required for transactions being fully encrypted. All selection requests go through several security checks before approval.
ByBit has not yet experienced a security breach, which means that the platform remains trustworthy and secure.
Future development
ByBit wants to clearly keep the door open for various profiles of traders, from small retailers to organized large investors. To achieve this, he had to build a solid performance infrastructure with the promise of supporting 100,000 transactions per second.
Nevertheless, the team behind it promises not to stop at this level, as its developers and technicians are constantly working with forex and blockchain experts to maintain performance levels in line with the growth of the platform's customer base.
Upcoming projects include:
Options Trading: European Options and Linear Options Contracts secured by the USDC
USDC Perpetual Contracts and Margins Using a Risk-Based Model for Experienced Traders, including Market Makers and Institutional Clients, to Increase Utilization Based on Underlying Price and Volatility Across Perpetual Contracts and Options
A single margin account that combines all types of accounts and provides users with the flexibility and convenience to achieve their financial goals
Grid trading involving a trading shoe in Bybit's ByFi Center, which helps users automate their buying and selling orders placed at predetermined intervals by adjusting their desired amount of leverage.
Services for institutions: products and services tailored to institutions
Wallet 3.0: support for> 100 different assets including DeFi, NFT, which are created using smart contracts.
Výhody
Clear interface
The platform offers great performance
Integrated asset swap
Low fees
Nevýhody
No telephone customer support
Advanced features can be intimidating for beginning traders
No fiat support
Závěrečné shrnutí

In short, ByBit has established itself as a decent platform for trading cryptocurrency derivatives. Its strengths include a robust trading platform, excellent leverage trading support and a related advanced mechanism for smoother operation, a great interface and quality security options.
FAQ
Is Bybit legitimate and safe?
Is your Bybit cryptocurrency safe? Bybit has a number of security measures in place to protect your property. Keeps 100 % client resources offline in the cold store. It also individually checks each selection request manually to prevent unauthorized selections.
What can I trade on Bybit?
At Bybit you can long and short 11 crypto assets, including BTC, BCH, ADA, ETH, LINK, DOT, EOS, LTC, UNI, XRP and XTZ. When purchasing inverse standing contracts, you need BTC, ETH, EOS or XRP as collateral. But BTC is an underlying asset when buying inverse futures contracts. For USDT standing contracts, USDT serves as a margin for trading in BTC, LINK, ADA, ETH, LTC, DOT, BCH, XTZ and UNI.
What are the Bybit fees?
On the platform you may encounter various Bybit charges. They include financing fees, takeover fees, asset exchange fees, asset renewal handling fees, withdrawal fees and insurance fees.
Is Bybit regulated?
Bybit is not regulated. Although generally in regulatory limbo, the platform has an extensive international user base. The company is registered in the British Virgin Islands, but is headquartered in Singapore. That is why many traders who gravitate to it are based in Asia.
Interesting events for our readers